CHAPTER XXXIV.
TOWN OF SMYRNA.
SMYRNA was formed from Sherburne as Stafford, March 25, 1808, and the name changed April 6, 1808. It is the central town on the north border of the county, and is bounded on the north by Lebanon, on the south by Plymouth, on the east by Sherburne and on the west by Otselic. The surface is a broken and hilly upland, the highest summits being from 500 to 800 feet above the valleys. The principal stream is Pleasant brook, which rises in the north-west corner of the town and flows south-easterly through the central portion. The north branch of Canasawacta creek crosses the south-west corner of the town and several small streams rising in this town are tributary to it. Cold brook rises in the south-east part of the town. Most of these streams flow through narrow valleys bordered by hillsides, a considerable portion of which are too steep for cultivation.
The north part of the town is underlaid by the rocks of the Hamilton group, the Tully limestone and the Genesee slate, and the south part by the rocks of the Portage and Ithaca group. Excellent building and flagging stone is quarried on the farm of Timothy Crandall, a mile and a half south-west of Smyrna village. On the farm of Wells Sexton, in the north part of the town, is a quarry not so much worked. Fire stone is obtained from a quarry on the Squire Simon's farm, three-fourths of a mile south-west of Smyrna. On Rexford Hill, in the north part of the town, on the Simeon Rexford farm, is a quarry, and another on the farm owned by Solomon Billings, adjoining the Rexford farm on the north.
The soil is a gravelly and shaly loam. That in the valleys is rich and productive. Much of the hilly land is either arable, fit for meadow, or good for grazing. The people are principally engaged in dairying. Some hops are raised, but not to any great extent. There are five creameries and a cheese factory in the town which receive in the aggregate the milk from nearly 2,000 cows. 1
The Midland Railroad extends through the east border of the town, and the Auburn Branch of that road crosses the south-west corner.
The population of the town in 1875 was 1,661; of whom 1,625 were native, 36 foreign, all white, 845 males and 816 females. Its area was 25,054 acres; of which 19,223 acres were improved, 4,698 woodland, and 1,133 otherwise unimproved. The cash value of farms was $941,413; of farm buildings other than dwellings, $113,204; of stock, $162,245; of tools and implements, $31,765. The amount of gross sales from farms in 1874 was $113,085.
There were, in 1877, fourteen common school districts in the town. During the year ending Sept. 30, 1877, there were fifteen licensed teachers at one time during twenty-eight weeks or more. The number of children of school age residing in the districts at that date was 490. During that year there were eight male and twenty-three female teachers employed; the number of children residing in the districts who attended school was 387, of whom six were under five or over twenty-one years of age; the average daily attendance during the year was 218.405; the number of volumes in district libraries was 428, the value of which was $210; the number of school-houses was fourteen, all of which were frame, which, with the sites, embracing three acres and thirteen rods, valued at $860, were valued at $4,985; the assessed value of taxable property in the districts was $833,945. The number of children between eight and fourteen years of age residing in the districts at that date was 168, of whom 140 attended district school fourteen weeks of that year.
Receipts and disbursements for school purposes:---
Amount on hand Oct. 1, 1876
$ 88.02
" apportioned to districts
1,478.03
Proceeds of gospel and school lands
80.73
Raised by tax
812.44
From teachers' board
599.85
" other sources
1.15
-----------
Total receipts
$3,060.22


Paid for teachers' wages
$2,744.07
" libraries
3.70
" school houses, sites, fences, out-
houses, repairs, furniture, &c.
91.08
" other incidental expenses
166.75
Amount remaining on hand Oct. 1, 1877
54.62
-----------
Total disbursements
$3,060.22
SETTLEMENTS.---This is the eighth of the Twenty Townships and one of the six originally purchased of the State by William S. Smith, who, in 1794, sold it, with the exception of lots 6, 8, 10, 14, 20, which had been sold to settlers, to John Lawrence, of New York city, whose heirs owned about three-fourths of the town as late as 1824.
The first settlement was made by Joseph Porter, who came from Conway, Mass., in August, 1792, and settled about a half mile south of Smyrna village, on lot 14, which he afterwards purchased. His log cabin stood upon a high knoll, on the east side of the railroad track, near the south limits of the farm, which is now owned and occupied by Leman H. Talcott, whose father, Joshua Talcott, bought the farm of Porter, on the latter's removal to Chautauqua county. Mr. Porter had the misfortune to be burned out before leaving Massachusetts and was thus destitute of household furniture. He married in Massachusetts, Jerusha, daughter of John Pope, of Martha's Vineyard, who accompanied him in the settlement in 1792. They drove a yoke of oxen, and Mrs. Porter rode a horse, mounted on a feather bed saved from the fire. An ax, a rifle and a few culinary utensils were of necessity brought, but the latter were few in number. Mrs. Porter died without issue soon after their settlement and was buried upon the farm on which they settled. Mr. Porter afterwards married a young wife and removed soon after to Chautauqua county. When Porter sold his farm to Mr. Talcott, he reserved forever the plot on which his wife was buried.
The second family that settled in the town, was that of Joseph Tobey, who married Mrs. Elizabeth Purcell, older sister of Jerusha Pope, wife of Joseph Porter. Mr. Tobey accompanied Joseph Porter in his settlement and helped him to build his log cabin, returning in the fall to Conway, Mass., his native place. The following March Mr. Tobey brought in his family, consisting of his wife and six children, four of the latter of whom were his wife's children by her first husband. When they arrived at Pleasant brook it was much swelled and full of running ice from the spring floods, making its passage difficult. They crossed upon logs carrying their effects upon their backs. Mr. Tobey settled on the east end of the Talcott farm, adjacent to Porter, and after a year or two removed to the farm now occupied by his son John, about one and one-fourth miles west of Smyrna, where both he and his wife died and are buried, his wife, who survived him some twenty years, aged upwards of 94 years. Tobey came in with a yoke of oxen and two cows, which were hitched mismatched to a wooden sled which contained their children and household effects.
Mrs. Tobey's children by her first husband were Betsey, Polly, _____ and Edmond; by her second husband (Mr. Tobey,) were Elnathan, Phebe, Jerusha, who was born May 7, 1793, being the first child born in the town, and died unmarried in her 20th year; John, who married Temperance Stone, of Smyrna, and settled on the homestead, where he still lives, having in 1876 celebrated the sixtieth anniversary of his wedding; Joseph, Freeman and Deborah.
David Wilbur, Joseph Collins and Joseph Billings also joined the settlements in 1793.
David Wilbur 2 came from Nine Partners, Dutchess county, and settled about a mile north of Sherburne Four Corners, on the farm now owned by Elmer Isbell. After one year he went back to Dutchess county, returning the following year and locating at Sherburne Four Corners, where he kept tavern eighteen years in the house now owned by Milton Bentley. He then traded for a farm about a mile north-west of the Four Corners, which is now owned by his son, Platt Wilbur, and occupied by his grandson, Wesley, son of Platt, where he resided till his death, Feb. 2, 1865, aged 93. He married in Dutchess county at the age of nineteen, Polly Peck, also of Dutchess county, who died Sept. 14, 1862, aged 90. He came to this country on foot, while his wife came on horseback, carrying in her arms her infant son Thompson, then only two years old. She afterwards returned to Dutchess county and brought in her household goods in the same way. Their son Thompson married Clarissa, daughter of Asa Manwarring, of New London, Conn., and settled on a farm adjoining his father's on the west, which is now owned by his son, Charles C. Wilbur. He died in Smyrna village, Oct. 10, 1871, having lived on that farm till the 1st of April preceding his death. His wife returned to the farm and died there Dec. 31, 1876. They leave nine children, seven of whom live in this county, (five in Smyrna,) one in Hamilton and one in Chicago.
David Wilber had eight children who were born here, viz: Sally, Smith, German, Maria, Lyman, Cynthia, Platt and Miles.
Joseph Collins and Joseph Billings, the former of whom married the latter's sister Betsey, came from Somers, Tolland county, Conn., in the winter season bringing their families on ox sleds. They settled on 160 acres previously selected in the north part of the town, Collins on the farm now owned by Thomas Brooks, and occupied by Deloss Brooks, and Billings on the place now owned and occupied by his son Harlow Brooks. Both resided where they settled till their death. Collins died of a fever in Westfield, Chautauqua county, in 1841, while returning from a visit to his son Alonzo in Michigan; and his wife, on the homestead, June 19, 1848, aged 77. Billings died May 18, 1847, aged 74, and his wife "Aby" Pomeroy, of Somers, Conn., Sept. 1, 1851, aged 84.
Joseph Collins was a clothier, and carried on that business in connection with farming. About 1818 he erected clothing works just below the saw-mill on Collins' creek,3 and carried on the carding and cloth-dressing business till 1840, when he sold to his sons Levi and Warren, who continued it together seven years, when they disposed of the same.
Joseph Collins and Joseph Billings were interested in the construction of a saw-mill on the same stream. It occupied the site of the saw-mill now owned by Levi Collins. It was built in 1795, and was the first mill erected in the town. A run of stones was soon after put in, and proved a great accommodation to the settlers of that period, who had previously carried their grists to Cooperstown. It was abandoned as a grist-mill about the time the grist-mill in the village was built. The saw-mill has been continued to the present day, three or four buildings having been erected on the site. Collins & Billings owned the property till about 1835, when the latter sold his interest to Collins and his sons. The property has since been in the possession of the Collins family. The mill contains three circular saws---log, wood and splitting saws.
Joseph Collins' children were Betsey, Grace, Joseph Warren, Myron, Marcia, Loren, Joseph W., Levi B., Alonzo and William W.
Joseph Billings' children were Joseph, Timothy, Lauren, Diana and Harlow. Harlow settled and still lives on his father's homestead.
In 1795, Hopson Willcox and his son Lillibridge came on horseback from Exeter, R. I. They had selected lots 1, 2, 3, 4, but when they arrived in New York with their money they found that those lots had been sold. They returned and took up 64 acres in the east part of the town. They then returned to Rhode Island, and the next year Hopson came in with most of his family and settled on the place now occupied by the grand-children of his son Hazzard. There he and his wife died, the former about 1821. Lillibridge married in Rhode Island, Anna Hoxie, and settled two or three years later on the farm now owned and occupied by his son Thomas L., a little over a mile north-west of the village. His log cabin stood on the site of the old wood-colored house which stand opposite the resident of his son Thomas L., and gave place to that frame structure in 1812. There he and his wife resided till their death, the former in 1854 and the latter in 1859. The old wood-colored house is now occupied by his grand-children, Pomeroy and Susannah Billings. Hopson's other children were Robert, John, Russel, Hazzard and Betsey.
Hon. Isaac Foote was born in Colchester, Conn., January 4, 1746, and removed thence in May, 1773, to Stafford, Conn. In February, 1795, he removed to Smyrna, and settled a mile south of the village, on the farm now owned by Pierce Nearing, where he died Feb. 27, 1842, aged 96. While a resident of Stafford, Conn., he was repeatedly elected to the General Assembly of the State. In May, 1779, by the united approval of the people, he received a commission as Justice of the Peace, which at that day was the highest evidence of a sterling character. In 1797 he was appointed to the same office in Smyrna, then Sherburne.
October 30, 1800, he was appointed First Judge of the Court of Common Pleas and General Sessions of the Peace in Chenango county, being the first person who held that office in the county.
May 31, 1773, Mr. Foote married Mary, daughter of Jonathan Kellogg, Jr., of Colchester, Conn., who died Nov. 15, 1826, aged 81. They had eight children: Mary F., Margaret P., Isaac, who died in infancy, Isaac, (the second by that name,) Amasa, Asahel, who died in childhood, John and Hiram.
Elijah Sexton was born in Somers, Connecticut, in 1752. He participated in the battle of Bunker Hill. After the close of the war, Mr. Sexton married Sibyl Spencer and in 1795 or '6 4 he purchased and settled on a tract of wild land in Smyrna. The farm on which he settled is located about two miles south of the Madison county line and adjoining the town line of Sherburne. It is now owned and occupied by Robert H. Knowles. There they resided till their death. He died in March, 1839. His wife died about 1805, aged 44. After her death he married the widow Thankful Sprague, of Hamilton, (nee Grannis,) who died in October, 1862, in the 86th year of her age. He had nine children, six of whom were born in Connecticut, viz: Elijah, Sibyl, Cynthia, Lovina, Harriet, Norman, John L., Abigail and Rhoanna, all of whom married and raised families.
In 1798, Simeon Rexford bought and settled on the farm now owned by his grandson Frank D. Rexford. His deed bears date of Aug. 24, 1798. A
---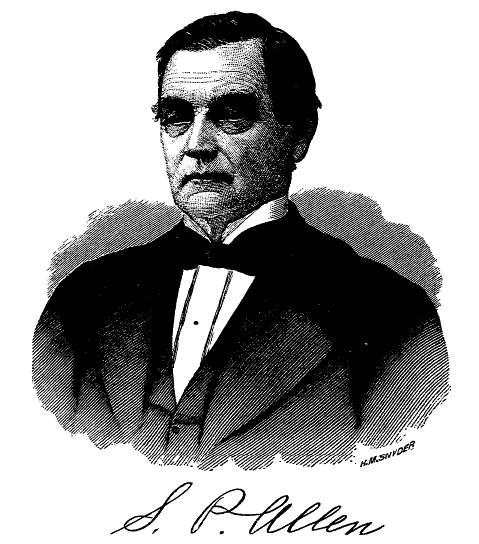 Samuel Percival Allen was born in the town of Smyrna, on the 21st day of October, 1814, one mile north-west of the village. His grandfather, Apollos Allen, came from Gill, Mass., in the year 1798, with a large family, and settled on a farm upon which the village of Smyrna was subsequently built. His father's name was Marsena Allen, who in 1811 married Hannah Gates Percival, a daughter of John Percival, one of the nine volunteers in the Revolutionary war from the town of Lee, Mass.
The subject of this sketch had no advantages of education save in the common school of the district three miles west of Smyrna village. In March, 1830, he went to Geneseo, Livingston county, with his uncle James Percival, then the publisher of the "Livingston Register," and for about two years was employed as an apprentice in the printing office. Returning to Chenango county he was employed on a farm in Sherburne for three years, attending school in the winter. In the winter of 1834-'5, he taught school at the "Old Four Corners," a district made from parts of Sherburne, Smyrna, Norwich and Plymouth. Again returning to Livingston county in 1835, he worked in printing offices in Geneseo and Mt. Morris, until September, 1837, when the Whig Central Committee, at the head of which was the late John Young (afterwards elected Governor of the State,) solicited him to take charge of a new Whig journal at Geneseo. As he had no means, the only capital he could contribute was industry and a brief experience as a printer. But with some old and a little new material, "The Livingston Republican" was issued on the 19th of September, 1837, and was continued by him for nine years, when it was sold, prior to his removal to Rochester. In 1840, Mr. Allen was nominated as the Whig candidate for County Clerk of Livingston county, and elected by over 1,200 majority. The removal of George Dawson to Albany, to become the associate of Hon. Thurlow Weed, offered Mr. Allen the opportunity of becoming the purchaser of one-fourth of the "Rochester Daily Democrat," in which he continued as one of the proprietors and editors for a period of eighteen years. During this time, in the fall of 1857, the entire establishment was destroyed by fire, with a very small insurance upon the property, but the paper kept up its issue until the proprietors of the "Democrat" bought out the "Rochester American" and consolidated it with the "Democrat." It was thenceforth a prosperous concern and very soon made good the heavy loss by fire. Soon after going to Rochester Mr. Allen was elected an Alderman for the old 6th ward, and in January, 1856, was elected Clerk of the State Senate, and re-elected in 1858, making two terms of two years each. In March, 1863, he was appointed by President Lincoln, Collector of Internal Revenue for the District composed of the counties of Monroe and Orleans, and held the office over six years, receiving during his term between five and six millions of dollars which was promptly and fully paid over to the Government.
By appointment of Gov. Young, Mr. Allen served as one of the first Managers of the Western House of Refuge at Rochester; and during the war of the Rebellion, he served as a member of the "War Committee" for Monroe county, appointed by Gov. E. D. Morgan. He was also several times a member of the Whig and afterwards of the Republican State Committee, a delegate to the Whig State Convention in 1855, and served upon the joint committee for selecting candidates upon the first Republican Ticket ever nominated in this State. Since that time he has often been a delegate to Republican State Conventions.
In 1870, after serving six years as Collector of Internal Revenue, having sold his interest in the Rochester Daily Democrat in 1864, he again turned his attention to this favorite occupation of publishing a newspaper. On the 1st of January in that year he purchased the half interest of Hon. Lewis Kingsley in the "Chenango Telegraph," an old and popular journal, and remained the partner of Hon. B. Gage Berry for four years. In 1874 he sold his interest to Mr. Berry and for the third time became a resident of Geneseo. In September, 1876, he re-purchased "The Livingston Republican," the paper he had founded thirty-eight years before. This he still owns and publishes.
In January, 1872, Mr. Allen was appointed Assistant Clerk of the Assembly, and performed the duties so satisfactorily that he was, with the exception of 1875 when the Democrats had a majority in that body, continued in the office until and including the session of 1879.
Mr. Allen was married in 1838 to Harriet C. Stanley, daughter of Luman Stanley, an early pioneer of Mt. Morris. Three of their six children are living; a daughter who was teaching in Detroit died in October, 1872, and two other daughters who were teachers in the State Normal School at Geneseo, died in 1876.
In 1878, Mr. Allen and his wife visited California, taking the overland route, and passing several weeks in San Francisco, Yosemite Valley and the surrounding region, Lake Tahoe and Salt Lake City in Utah. At the latter place he met a brother of the Mormon Prophet, Brigham Young, who, with the entire Young family lived in Smyrna when Brigham was ten or twelve years old. Their residence was west of "Dark Hollow" on the road to French Settlement or Plymouth village. Mr. Allen is attached to his life-long profession, to the place where he first learned the art of printing and established the paper with which he proposes to remain connected as long as life and health are spared to him.
---
deed bearing the same date was made out to Stephen Kelsey for what is now the Nelson Cole farm, one-fourth mile south of the village. Simeon Rexford died Dec. 31st, 1857, aged 82, and Milla, his wife, May 7, 1836, aged 53.
John Billings came from Stonington, Conn., his native place, and bought farms for his four children, John, Flavia, who married John Parsons, Joseph and Betsey, who married Joseph Collins, but he never made a settlement here. His son John came about 1798, settled on lot 2, in the north-east corner of the town, on the farm now owned, 100 acres of it, by his grandsons, E. C. and John Monroe Billings, and some 60 acres, including the homestead, by William H. Congdon, where he died June 6, 1828, aged 63. His wife, Lucina, also died there Jan. 29, 1845, aged 80. John Billings' children were Augustine, Mary, Nancy, Lovice, Bertha, John F., Lorenzo, and Orson. John F. Billings built on his farm in 1850 a large commodious cobble-stone house, which was then said to be the finest house in the county. It is also said to be the only house of its kind in the county. Only two of John Billings' grandchildren are living in the county, Erastus Clinton Billings, a druggist, and J. Monroe Billings, a farmer, both in Smyrna.
John Parsons came in, previous to 1800, and settled on lot 1, in the north-east corner of the town, on the farm now owned and occupied by his son Alfred, where he died Oct. 17, 1841, aged 70, and Flavia Billings, his wife, June 10, 1859, aged 83. His children were Marvin, Billings, Flavia, Hancy, Solomon, Alfred and Hiram.
In 1799, John Percival bought land on the turnpike, west of the center of the town, near Warren Stanton's and Hoxie Tefft's. In 1800 Obadiah Spencer bought the Smith Caulkins or Milton Smith property. The same year Stephen Parker bought the farm owned by Thomas Brooks. In 1803 Jesse Hutchinson and Apollos Allen bought lot 15, comprising the site of the village; also the west half of lot 16. They are supposed to have been the first settlers on the site of the village and were jointly interested in milling and distilling. They built the saw-mill and grist-mill which was purchased in 1809 by Squire John Munson. Allen's house stood near the residence of A. Eastman, on the west side of the garden plot of Laroy C. Sweet. Alpheus Hall bought the Col. Solomon Hall farm, towards Earlville, in 1804. Sept. 18, 1804, Aaron Hutchinson purchased the east half of lot 26, west of the village, now owned by Dwight Hall and Mrs. Manwarring. The same year William Stover bought the old Stover farm; and David Felt, lot 1, the Parsons and Teft farms. William Stover was elected supervisor in 1810 and held that office continuously till 1820. Comfort Record was an early settler in the west part of the town; also John Parker, on the farm now owned by Mr. Richmond. Luke Hall came at an early day from Somers, Conn., and settled in the north part of the town, where his son Erastus now lives, and died there, he and his wife.
Benjamin Paul came from Westminster, Vt., in 1805, and settled about two miles south-west of Smyrna village, on the farm now owned and occupied by William Fields. In 1810 he removed to North Norwich and settled where Benjamin Seymour now lives, about two and one-half miles above North Norwich village. After various removals in the town he finally located on the Whapanaka,5 in the east part of the town, where his son Benjamin now lives, and died there in 1858, aged 76. His wife, Abigail Carr, to whom he was married in Vermont, died on the same place in 1859. Two sons, Alfred and Benjamin, are living in North Norwich. A daughter, Jane, wife of Jeremiah Clark, is living in Plymouth.
John Munson came from Barkhampsted, Conn., in the spring of 1809 and settled just north-west of the village of Smyrna, where his son Albert now lives. He purchased some eight acres, including the Hutchinson & Allen mill property. He built a distillery in connection with the grist-mill, both of which were burned March 30, 1829. Mr. Munson was engaged in the milling and distilling business till his death, Dec. 13, 1827, aged 42. He married Sally, daughter of John Merrell, of Barkhampsted, Conn., who died on the homestead in Smyrna, Jan. 29, 1862, aged 76. He came here with his wife and two daughters, Eliza and Hannah, the former of whom married Philip S. Mead, brother of Dr. Nicholas B. Mead, who came from Kingsbury, Washington county, about 1826 and settled about two miles south-west of Smyrna village, on the farm now owned by the heirs of Thomas Purdie, to whom he sold about 1830, and removed to Smyrna village, where he died June 13, 1833, aged 29, and where his wife still lives. Hannah married Jonathan Shepardson, Jr., a native of Plymouth in this county, and settled on the Munson homestead, where he died May 16, 1841, aged 35. His wife afterwards removed to Smyrna village to live with her son and only child, Andrew Shepardson, who is the present clerk of Chenango county. She died there in 1877. Mr. Munson had only one child after coming to Smyrna, Albert, who was born in 1811, and owns and operated the mill property purchased by his father in 1809. Amanda, wife of Gardner Butts, living in Smyrna village is the only one of Eliza's children living. She married for her first husband Albertus Merritt, who died in Milwaukee, where they then resided. Albert has three children living in Smyrna, George A., John H., and Sarah, wife of Frank Dimmick, a jeweler in that village.
TOWN OFFICERS.---The first town officers recorded were elected at a meeting over which Isaac Foote, esq., presided as moderator, and were as follows: Joseph Simmons, Supervisor; Jabez Collins, Clerk; Stephen Parker, Jesse Hutchinson and William Stover, Assessors; William Collins, Joshua Talcott, and Robert Emmons, Commissioners of Highways; Solomon Kelsey, Constable and Collector; William Stover and Joseph Collins, Overseers of the Poor; Alpheus Hall, Seth Willis, Elias Ladd, Samuel Kelsey and Elisha Stanley, Fence Viewers, who were to receive seventy-five cents per day; Gideon Rudd, Pound Keeper.
For the following list of the officers of the town of Smyrna for the year 1880-'81, we are indebted to William F. Jaquith:---
Supervisor---Asa Wilbur.
Town Clerk---William F. Jaquith.
Justices---Francis E. Dimmick, Charles H. Stanton, George P. Pudney, Elbert F. Smith.
Assessors---Solomon Billings, Jerome Brand, Chas. Wilbur.
Commissioners of Highways---S. V. Reynolds.
Overseer of the Poor---James P. Wilcox.
Constables---Frank Rexford, William Comstock, John Munson.
Collector---Frank Rexford.
Inspectors of Election---Yale Northrop, James R. Boss, Edward Stack.
Town Auditors---Augustin Pier, R. H. Wilcox, and L. C. Sweet.
Sealer of Weights and Measures---William P. Briggs.
Game Constable---Tilly Harrington.
Excise Commissioners---Hoxie Tefft, E. W. Stokes and William Record.
The following have been the Supervisors of the town since its organization: Joseph Simons, 1809; William Stover, 1810-'20; Joseph Billings, 1821-'22; Samuel Hall, 1824-'25, '27-'28; Joshua Talcott, 1826; Isaac Foote, Jr., 1829-'30, '50; Amasa Foote, 1831-'32; Norman Sexton, 1833-'37, 1844; Stephen Anthony, 1838-'39-'40,'43; Samuel Northrup, 1841-'42; Dudly Bennett, 1845; John F. Billings, 1846-'47; Eber Dimmick, 1848-'49; Harlow Billings, 1851-'52; Rowland Tefft, 1853-'54; Benjamin Stover, 1855-'56; Asa Wilber, 1857-'58, 1876-'79; Demas Hubbard, Jr., 1859-'64; Andrew Shepardson, 1865-'73; Platt Wilber, 1874-'75.
SMYRNA.
Smyrna is pleasantly situated on Pleasant brook, in the east part of the town, on the line of the New York, Ontario, and Western (Midland) Railroad, and is distant about eleven miles from Norwich. It contains three churches, (Baptist, Congregational and Methodist Episcopal,) a Union School, one hotel, kept by M. K. Messinger, two grist-mills, a tannery, three blacksmith shops, (kept by Patrick Fagan, who has also a carriage shop, E. Guthrie and Leonard Towner,) a harness shop, kept by Willis L. Babcock, two shoe shops, kept by A. Pier and John Abbott, six stores, a wagon shop, kept by Herbert Soule, a cabinet chop and undertaking establishment, and a population of about 350.
The village was incorporated April 20, 1829. The first corporation meeting was held at the house of Russel Case, May 4, 1829. Nathan Sutliff was called to the chair and N. B. Mead appointed secretary. The following named officers were then elected:---Russell Case, N. B. Mead, George Hammond, John Strew, and Harvey Talcott, Trustees; Gurdon Hyde, Clerk; Benjamin Hopkins, Peter Merritt and John E. Tew, Assessors; Hial Hart, Treasurer; Samuel C. Lawson, Constable and Collector; John Wiley, Pound Keeper; John Strew, M. B. Mead, and Peter Merritt, Fire Wardens; Demas Hubbard, Overseer of Highways. At a meeting of the trustees of the same place May 13, 1829, Russell Case, was elected President of the Board.
Village officers elected May 5, 1879:---
Trustees---Asa Wilbur, L. C. Sweet, E. F. Smith,6 C. G. Dixon, George Hunt.
Clerk---G. P. Pudney.
Assessors---E. R. Bassett, H. F. Nearing and M. R. Mygatt.
Treasurer---F. E. Dimmick.
Overseer of Highways---J. M. Billings.
Collector---S. D. Lawson.
Constable---P. Fagan.
Fire Wardens---H. M. Dixon, C. D. Stokes, E. C. Billings.
Pound Master---John Wilcox.
Following are the names of the successive Presidents and Clerks of Smyrna Village:---
| Years. | Presidents. | Clerks. |
| --- | --- | --- |
| 1829. | Russel Case. | Gurdon Hyde. |
| 1830.7 | ____ _______. | " |
| 1831. | Nicholas B. Mead. | Demas Hubbard, Jr. |
| 1832. | Job S. Collins. | Aristarchus Monroe. |
| 1833. | " 8 | James Leonard. |
| 1834. | John B. Parsons. | " |
| 1835-6. | Russel Case. | Milo Sutliff. |
| 1837.7 | ____ _______. | " |
| 1838. | Julius Kelsey. | " |
| 1839. | C. W. Chapman. | " |
| 1840-2.7 | ____ _______. | " |
| 1843-4. | J. B. Leonard. | T. Shepard. |
| 1845. | Benjamin Hartwell, 2d. | " |
| 1846-7. | T. Shepard. | " |
| 1848.9 | ____ _______. | Francis E. Dimmick. |
| 1849. | Russel Case. | " |
| 1850. | John Strew. | " |
| 1851.9 | ____ _______. | L. C. Kenyon. |
| 1852.9 | ____ _______. | Joseph B. Leonard. |
| 1853. | T. Shepard. | " |
| 1854. | Demas Hubbard, jr., | L. C. Kinyon. |
| 1855. | Francis E. Dimmick. | Denison A. Kelsey. |
| 1856. | " | J. H. Kinyon. |
| 1857. | Benjamin Hartwell. | " |
| 1858. | Milo Benedict. | William Tracy. |
| 1859. | L. C. Sweet. | " |
| 1860. | Trowbridge Shepard. | " |
| 1861. | L. C. Sweet. | H. M. Dixon. |
| 1862. | Demas Hubbard, jr., | Herbert M. Dixon. |
| 1863. | " | James E. McClellan. |
| 1864.9 | ____ _______. | H. M. Dixon. |
| 1865.9 | ____ _______. | ____ _______. |
| 1866.9 | ____ _______. | A. Comstock. |
| 1867. | Asa Wilbur. | Almenzo K. Dixon. |
| 1868.9 | ____ _______. | do |
| 1869. | A. Wilbur. | M. C. Dixon. |
| 1870. | " | Richard Lawson. |
| 1871. | " | Augustus A. Schenck. |
| 1872. | Augustin Pier. | R. M. Lawson. |
| 1873. | H. M. Dixon. | W. F. Jaquith. |
| 1874. | E. F. Smith. | " |
| 1875. | A. Pier. | Lewis E. Purdy. |
| 1876-7. | A. K. Dixon. | E. F. Smith. |
| 1878. | L. C. Sweet | G. P. Pudney. |
| 1879. | Asa Wilbur. | " |
MERCHANTS.---The first merchant in Smyrna was James Elmore, who came from Sherburne about 1812 and opened a store in the building which, having been enlarged, is now owned and occupied as a dwelling by Cheney Hayward. He remained here but a short time and returned to Sherburne, where he had previously been engaged in mercantile business. Harvey Talcott, brother of Joshua Talcott, both of whom were among the first settlers in Smyrna, next opened a store in the same building, succeeding Elmore and continuing till shortly before his death, Feb. 25, 1846, with the exception of about a year during the crisis of 1837, having in the meantime built and occupied for several years the store now occupied by the Dixon Brothers. He sold to Webster Morrell, who very soon after admitted Giles Cowles, from Connecticut, with whom he traded about a year, when he bought Cowles' interest and some two years later sold to Deacon Gardiner J. Kinyon, of Smyrna, who traded till his death February 17, 1857. Herbert M. Dixon, in the winter of 1858, opened a store in the interest of Charles H. and Nathan P. Wheeler, as a branch of Wheeler & Co.'s store in Norwich. On the death of the former in 1860, and the subsequent division of the property, the store in Norwich fell to the latter, and the store in Smyrna to Dudley R. Wheeler, father of Charles H., who associated with himself as partner, Herbert M. Dixon, who, in company with John S. Blackman, bought Mr. Wheeler's interest, and traded under the name of Dixon & Blackman one year, when Mr. Dixon bought his partner's interest, and in the spring of 1866, his brothers Charles G., and Mott C., became his partners, continuing such three years. In the spring of 1872, his brother Charles G. Dixon again became his partner, and the business has since been conducted under the name of Dixon Bros.
J. Billings Parsons and Aristarchus Munroe, the former from Smyrna and the latter from Plymouth, traded in the old Elmore store a few years about 1840. Elmer Isbell, of Smyrna, whose father, Seymour, came here from Otsego county about 1840, occupied the same store three or four years from about 1843 or '4. Eber Dimmick, father of F. E. Dimmick, came from Sherburne Hill and traded about a year in the store now occupied by A. K. Dixon. J. Orville Ransom, from North Norwich, succeeded him, and traded three or four years during the war, first in the same store and afterwards in the building occupied by F. E. Dimmick and George P. Pudney.
Joshua Pratt, from Sherburne, opened a store in 1825, in the building now occupied by Giles Cowles as a dwelling, which was built by Mr. Pratt, who was engaged in mercantile business in Sherburne, and entrusted the management of the store at this place to Richard Wiley, who afterwards traded in the bar-room of the old Hall tavern, which occupied the site of the M. E. church, and was the first tavern in the village. It was kept at a very early day by Obadiah Spencer, by whom, probably, it was built. The present tavern, or rather the central part of it, was built about 1820 by Luther Bowen and Jethro Hatch, who kept tavern and traded there a number of years. Several additions have subsequently been made to the building.
Dr. Nicholas B. Mead and Nathan Sutliff, the former from Kingsbury, Washington county, opened a store in the building now unoccupied just west of the residence of Brundage Ferris, and traded several years. They were succeeded by Milo, son of Nathan Sutliff, who also did business several years and failed. Brundage Ferris occupied the tavern stand of Julius Kelsey. Julius Kelsey, before he moved into the tavern, kept a good grocery some eight or ten years.
Luther Bowen and Jethro Hatch sold to Russel Case, who kept the tavern and traded at the same stand for several years.
Trowbridge Shepard, a native of Lebanon, commenced trading here about 1830. After a few years he engaged in the drug business, which he continued till his death, Aug. 26, 1862.
The other merchants now doing business here besides the Dixon Bros., are Abel Comstock, druggist and grocer, who commenced in 1864; Almenzo K. Dixon, hardware dealer, in 1866; Ery W. Stokes, flour and feed and ready-made clothing, in 1869; Erastus C. Billings, druggist, in 1878; Charles D. stokes, General merchant, 1877.
POSTMASTERS.---The first postmaster at Smyrna was probably Samuel Hall, who kept the office in the tavern which occupied the site of the M. E. church, of which he was also proprietor, soon after 1800. He was succeeded by Chester Hammond, but the office was still kept in the tavern by Samuel Hall as Deputy. Harvey Talcott held the office from about 1829 to 1841, and Elmer Isbell from about 1841 to 1849. Milo Sutliff and Beardsley Leavenworth each held the office about four years. Nicholas B. Mead was appointed in 1857; Andrew Shepardson in 1861; and Dr. George E. Lawrence, the present incumbent, Jan. 10, 1871.
PHYSICIANS.---Before any physician located in Smyrna, Drs. Camp, of Plymouth, Israel Farrell, of Sherburne Hill, and Asa White, of Sherburne, extended their practice in this direction. Probably the first physician who located in the town was Dr. Samuel Guthrie, a native of Brimfield, Mass., who came here in 1802, and removed to Sherburne in 1811. He also extended his practice in this direction after his removal. Nicholas B. Mead came from Kingsbury, Washington county, about 1816, having previously studied medicine in Sherburne with Dr. Israel Farrell. He continued in practice here till about the close of the late war. William W. Page, then a young man, came in about 1823. His health was poor, and he died here after a few years' practice. Dr. Brown came from Otselic about 1830 of '31, and after a few years' practice removed to Earlville. Asa Babcock came from the eastern part of the State about 1833, and practiced two or three years in company with Dr. Mead. Joshua M. Fisk came about 1840, and practiced till about 1856. William H. Stuart, a native of German, practiced here six months in 1862, when he entered the army. 10 Dr. Ure came in about a year after Dr. Stuart left, and practiced nearly two years. Frederick F. Comstock practiced here from the spring of 1873 till Dec., 1875. Other physicians have located here for short periods of a few months, but did not become properly identified with the history of the place.
The present physicians are George E. Lawrence, James E. McClellan and Thomas Edward Stack.
George E. Lawrence was born in Oneonta, N. Y., Nov. 18, 1816, and educated in the common schools of Oneonta and Sherburne. He commenced the study of medicine in 1837, at Cobleskill, N. Y., with Dr. Kibber, and subsequently pursued his studies with Dr. Holden Sweet, of Sherburne. He attended a course of lectures in the New York Medical Institute in 1867, and Jan. 5, 1868, was granted a certificate by the Eclectic Society of the State of New York. In January he received a certificate from the Chenango Co. Medical Society, and commenced practice that year in Sherburne, continuing till 1854, when he removed to Smyrna, where he had since practiced.
James E. McClellan was born in Glasgow, Scotland, October 3, 1836, and emigrated to Sherburne in 1852, removing thence after two or three years to Smyrna. In 1867 he entered the Long Island College Hospital, where he was graduated in June, 1868. From thence he went to DeRuyter, where he practiced eight years, and thence in 1876 to Smyrna.
Thomas Edward Stack is a native of Ennis, Ireland and emigrated thence to Smyrna in March, 1878. He is a graduate of Dublin University and the Queen's College.
LAWYERS.---Demas Hubbard, Jr., whose parents were early settlers in Sherburne, was born in Winfield, Herkimer county, Jan. 17, 1806, and received an academic education. He commenced practice here some fifty years ago, and after practicing some five or six years in Justices' courts, was regularly admitted and practiced here till his death, Sept. 1, 1873.
_____ Wales, who lived about three-fourths of a mile south-west of the village, practiced in Justices' courts about sixty years and until his death. A Mr. Chapel practiced here two or three years from about 1839.
George P. Pudney, the only attorney now practicing here, is a native of Smyrna, and was admitted in 1877, in which year he commenced practice here.
MANUFACTURES.---Munson's grist-mill was built in the summer of 1829, by the executors of John Munson, on the site of one built in 1803, by Jesse Hutchinson and Apollos Allen. In 1809, John Munson bought a half interest in the property which then consisted of a saw and grist-mill, and soon after the other half. In August, 1817, the mill was swept away by a flood and was rebuilt the following winter by John Munson, who owned the property till his death, Dec. 13, 1827. The property then went into the hands of his heirs, whose interest was bought by his son Albert, the present proprietor, about 1850. The mill contains two runs of stones, propelled by two overshot wheels. The motive power is furnished by Pleasant brook, which give a head and fall of sixteen feet. The saw-mill was never rebuilt.
The tannery at Smyrna is owned by James P. Willcox and Lysander S. Cleveland, who leased it to Adelbert Rugg, the present occupant, June 2, 1879. It occupies the site of a carding and cloth-dressing establishment erected about 1810, by George Hammond, and replace by a more pretentious building in 1825. The present building was erected in 1858-'9, by Jared B. Simons and A. Pier, who succeeded Nathaniel T. Ferris as proprietors of the property in the summer of 1858. Ferris purchased the carding mill of Henry G. Knapp, who held it about a year, but did not run it. Simons & Pier carried on the tanning business five years and sold to Levi G. Stanbro and James P. Willcox Dec. 2, 1863. Lysander S. Cleveland bought Stanbro's interest April 1, 1875. The tannery contains 32 vats and tans 20 hides per week. It is situated on the south bank of Pleasant brook, which has here a fall of about twenty feet.
A tannery was in operation in 1836 and was run by John E. Tew, who is supposed to have started the tanning business here. The residence of Milton Mygatt is a part of the tannery building. Tew sold about 1838 to Gardiner Stanbro, who ran it till about 1863, when it was discontinued. A tannery was in operation for several years on the site of the residence of Augustin Pier and was discontinued about 1851, when Justus Burlingham was the proprietor. Demas Hubbard's tannery has before been referred to.
John P. Willcox, cabinet manufacturer and undertaker, commenced business here as an apprentice with Josiah Hayward in 1829 at the age of seventeen. At the age of twenty-one he bought out his employer and has since continued the business.
In 1876, Ery W. Stokes converted the rear part of his store, which he built in 1871, into a feed mill, with one run of stones, which are propelled by a ten-horse power engine.
SMYRNA FIRE DEPARTMENT.---The year of its incorporation action was taken with reference to the protection of the property of the village from fire, by an appropriation for the construction of a reservoir. Dec. 20, 1832, $100 was voted for the purchase of a fire engine. This action was ratified at the annual meeting, May 6, 1833, but rescinded at a special meeting held Feb. 19, 1834. May 1, 1837, an appropriation was made for the purchase of fire hooks. Sept. 1, 1849, certain persons, who are not named, petitioned to be and were constituted a fire company. June 27, 1855, twenty-four persons were organized into a fire company to be known as "Protection No. 1," and certain exemptions and immunities from taxation were granted them as compensation for their services as such. May 7, 1855, $100 was voted for the construction of reservoirs. Jan. 18, 1875, $185 was voted for the purpose of constructing an engine house and Gardiner Stanbro, George Hunt and Asa Wilbur, were appointed a committee to take measures toward constructing a suitable building for that purpose. This was rescinded May 19, 1875, and the treasurer instructed to pay back the amounts paid in on that assessment. It was then decided to rent for ten years, at $20 per year, for the purpose of storing the fire engine, the building belonging to the Methodist Episcopal Society, lately occupied by the Good Templars.
The present officers of Protection Fire Company No. 1 are, W. P. Briggs, Foreman; George P. Pudney, Assistant Foreman; F. H. Dimmick, Secretary; L. C. Sweet, Treasurer; Jesse Willcox, Foreman of Hose; F. J. Stanton, Assistant. The equipment consists of a Silsby hand engine, a hose carriage, and 400 feet of leather hose. The present number of members is 33.
Smyrna was once the seat of a flourishing academy, which was discontinued some thirty years ago. The building is still standing on the north bank of the brook, and is occupied as a dwelling by Gardiner Stanbro.
SOCIAL LIBRARY, of Smyrna, was organized at the house of Samuel Hall, on the first Tuesday in December, 1818. Chester Hammond, Amasa Foote, Luther Bowen, Joseph Simons and Russel Case were the first trustees. The library was kept in the house of Joseph B. Leonard in the village from the time of the organization till its disbandment about 1845, when the books, to the number of some 300 volumes, were sold at auction.
The Union School of Smyrna.---School district No. 2 in the town of Smyrna was formed by the consolidation of districts Nos. 2 and 15 lying principally within the village of Smyrna, pursuant to an act of the Legislature passed March 19, 1862, which authorized a meeting for the election of three trustees and the other usual district officers, to designate the site for a district school-house, to levy such tax on the taxable inhabitants of the district as was deemed sufficient to purchase such site, and to build a school-house thereon, at a cost not exceeding $1,500. The trustees of said districts were authorized to sell as soon as convenient, at public or private sale, the property of their respective districts and after paying their just debts, pay the balance to the trustees elected by virtue of this act to be apportioned among the taxable inhabitants thereof, in the ratio of their several assessments.
The school-house is a wooden structure and was built in 1852. Azariah Smith was the first teacher employed.
Oct. 8, 1878, the trustees reported the receipts for school purposes as $683.45; the disbursements, $674.03. Oct. 14, 1862, it was voted to have but one trustee instead of three. The officers elected Oct. 8, 1878, were: A. Pier, Trustee; E. F. Smith, Clerk; D. G. butts, Collector; D. P. Brown, Librarian. The library now contains about 200 volumes.
CHURCHES.---The First Regular Baptist Church of Smyrna was organized Dec. 22, 1804. The records of this church prior to 1871 are lost; consequently, we are unable to trace its history up to that period. Its legal organization dates from March 5, 1836, when the church met in the school-house in Smyrna village, "their stated place of worship;" Deacon B. Lyon was chosen moderator and B. Barber, secretary. Benjamin Lyon, Levi Post and Thompson G. Fisher were elected trustees. Their house of worship was probably built about this time. The pastor in 1871 was Rev. H. S. Jones, who was succeeded in 1878 by Rev. G. R. Burnside, the present pastor.
The First Episcopal Methodist Society of the Town of Smyrna.---In 1816 a class was organized at the house of John Tobey by Rev. George W. Densmore. It consisted of the following named eight persons: Joseph Tobey, Elizabeth Tobey, Lilla B. Wilcox, Susannah Wilcox, Hugh Cagwin and wife, and _______ Sebry and wife, who afterwards joined the Mormons. It was then connected with the Lebanon circuit, afterwards changed to the Chenango. In 1838, the Smyrna circuit was formed and L. H. Stanley appointed preacher in charge.
April 25, 1836, the society was incorporated under the above name. The meeting for that purpose was held at the village school house, where it statedly met for public worship. Elder Henry Halstead was chosen moderator and Russel Case, clerk. Thomas R. Tracy, John Tobey and "Elem Dimock" were elected trustees.
Up to this time services were held in private dwellings and school-houses. The lot on which the church now stands was purchased for $450, and the old hotel building then standing on it was fitted up for a place of worship. In 1843 the old building was torn down and a pleasant church edifice was built at a cost of $1,600. Rev. J. Soule was then the pastor. In 1865, during the pastorate of Rev. William Burnside, it was enlarged by an addition of 20 by 30 feet, at a cost of $400. In 1871, during the pastorate of Rev. S. Moore, the church was rebuilt and enlarged, at a cost of $5,000. The first parsonage was purchased in 1853, for $475. It was sold in 1866, and the present one purchased for $1,400.
The following have been the succession of pastors: W. Densmore, 1817; Daniel Barnes and Russel Downing, 1818; Wyatt and Chamberlain, 1819; E. Doolittle and Ira Brownson, 1820; F. Jones and _______1821; Wm. Cameron and Joseph Atwood, 1822; Isaac Grant and E. Doolittle, 1823; O. Doolittle and H. G. Warner, 1824; Wm. Cameron, 1826; E. N. Flint, 1827; Wm. Rounds and S. Beach, 1830; Wm. Rounds and E. Colson, 1831; A. Peck and H. Erckenbrack, 1832; B. G. Paddock, 1833; D. Davis and Wm. Rand, 1834; H. Halstead and ________ Way, 1835; C. Star and ______ Burlingame, 1836; C. Star and A. Brown, 1837; A. Peck and L. H. Stanley, 1838; L. H. Stanley and J. Crawford, 1839; J. Denison and R. Rose, 1840-1; ______ Shank, 1842; L. Beach, 1843-4; Wm. H. Miller, 1845; L. Beach, 1846; Wm. G. Queal, 1847-8; M. M. Tuke, 1849-50; E. C. Brown and A. Brown, 1851-2; R. S. Southworth, 1853; J. Davis, 1854; Lewis "Hartsouth" (probably Hartshough) 1855-6; J. W. Mitchell, 1857-8; W. Peck, 1859; J. Lord, 1860-1; T. M. "Willinan," 1862; Wm. Burnside 1864-5; J. H. Hall, 1866-7; A. M. Colgrove, 1868-9; S. Moore, 1870-2; A. F. Brown, 1873-4; H. Fox, 1875-6; J. L. Race, 1877-8; O. L. Steveson, 1879.
CHURCHES.---The First Congregational Church in Smyrna.---The first religious meetings in Smyrna were held in a school-house that stood near the site of the present Congregational church. In the year 1816 there was a powerful revival of religion in connection with these school-house meetings. Preaching was obtained for the few weeks of the revival interest. A better school-house was built in which, June 26, 1824, the First Congregational church in Smyrna was organized. The original members were as follows, viz: Marsena Allen, John Strew, Julius Wood, George J. Hammond, Chester Hammond, Elihu Pettis, Deborah Pettis, Rodger Case, Mercy Case, John Percival, Ruth Percival, John Percival, Jr., Lois Youngs, Timothy Leonard, Asenath Leonard, Satira Hammond, George Hammond, Elijah Sexton, Rhoda Sexton, Deborah F. Pettis, Fanny Hammond, Asenath Wood, Reuby Hall, Bersheba Carver, Miranda Strew and Mary Packard. These, except the last one mentioned, came from the Second Congregational church in Sherburne, located on West Hill. At the formation of the church, Rev. Samuel Manning, of Sherburne, presided as moderator, and Rev. Nathaniel Latham, of Hamilton, preached the sermon. John Percival and Timothy Leonard were chosen to serve as deacons for the first communion, and Chester Hammond was chosen clerk of the church. At the first communion season Sarah Hunt, Sally Hunt, Mary Talcott, Polly Sutliff and Hannah G. Allen were received by letter from the West Hill church. Having no minister, John Percival was chosen as standing moderator of all church meetings. All the meetings were held in the district school-house till a house of worship could be built. In August, 1826, the frame for a meeting house was raised, and the house was completed in the following year. In December, 1827, the funeral of Mr. John Munson, one of those who contributed toward the building of the house of worship, was held in the unfinished building. January 20, 1828, the house was dedicated, Rev. Lyman Rexford, of Sherburne, preaching the sermon on the occasion.
The church has numbered 521 communicants on its roll of members.
The first deacons of this church were Chester Hammond and Marsena Allen. Succeeding these were Isaac Foote, Jr., William W. Chapman, Amasa Foote, Gardiner J. Kenyon and Julius Wood.
The present deacons are Levi B. Collins and Nathaniel T. Ferris.
The following is a list of the pastors and their term of service:---
Ezra Woodworth, Aug. 1824, to May, 1825.
Luther Clark, April, 1826, to April, 1828.
Charles E. Avery, May, 1828, to Aug. 1830.
Samuel Manning, April, 1831, to Feb., 1832.
Elias Childs, Nov., 1832, to Sept., 1834.
Sidney Mills, Oct., 1834, to April, 1839.
Lemuel Pomeroy, Feb., 1840, to April, 1852.
David F. Judson, April, 1853, to May, 1857.
M. C. Bronson, Nov., 1857, to April, 1860.
Andrew Huntington, June, 1860, to Sept., 1861.
Charles Barstow, Feb., 1862, to Sept., 1862.
Archibald Crawford, Dec., 1862, to March, 1863.
John H. Nason, Oct., 1863, to March, 1866.
Seneca M. Keeler, June, 1866, to Sept., 1870.
Henry M. Grant, Nov., 1870, to Oct., 1871.
Henry Carpenter, Feb., 1872, to April, 1873.
Charles C. Johnson is the present pastor. He began his labors with this church Jan. 3d, 1874.
During the pastorate of Mr. Keeler, the society enlarged and remodeled their house of worship at a cost of $3,500. During the ministry of Mr. Grant the manse was freed from debt and presented to the society. In 1873 the society repaired and reseated their chapel. In the summer of 1879 the church edifice was thoroughly renovated, calcimined and painted. The society keep out of debt and pay their pastor's salary promptly.
H. M. Dixon is superintendent of the Sabbath School, and has superintended a mission Sunday School at Central Smyrna for the past 25 years. Deacon N. T. Ferris is Superintendent of the South Smyrna Sabbath School. 11
SOCIETIES.---Smyrna Lodge No. 116, I. O. of O. F., was chartered Oct. 22, 1847. The first officers were: Levi H. Case, N. G.; Elmore Isbell, V. G.; Francis E. Dimmick, Secretary; George C. Mead, P. Secretary; Dwight H. Talcott, Treasurer; Milo Benedict, Warden; Asa Harrington, Conductor; L. H. Talcott, I. G.; Enos Merrill, O. G. The meeting was held in the upper part of the present hotel, which was then kept by Enos Merrill. Saturday was the time selected for holding the meetings, which have since been held weekly on that evening.
UPPERVILLE.
Upperville, situated on Pleasant brook, near the center of the town, was once the seat of an ax factory, established and conducted by Russell Leonard, and later by M. H. Jones. The business was abandoned several years ago.
WAR OF THE REBELLION.---At a special town meeting held in Lawson's Hall, Thursday, Jan. 7, 1864, it was resolved to pay a bounty of $323 to each volunteer credited on the quota of the town under the call of recent date for 300,000 men, whether enlisted previous or subsequent to this date. Demas Hubbard, Jr., Francis E. Dimmick and Solomon S. Hall were appointed a Financial committee to raise the necessary money for that purpose and issue the bonds of the town therefore, payable in three equal annual installments with interest not to exceed 7 per cent, each first day of February, beginning in 1865. Volunteers so electing could receive bonds to the amount of $300 to apply on said bounty. March 11, 1864, this committee reported to the Board of Town Auditors that they had received from ten applicants for bonds $4,650, and that they had paid to volunteers as follows:---


Cash.
Bonds.
Elliot A. Franklin,
Smyrna,
$123
$200
Gilbert L. Wedge,
"
23
300
Clark Tinker,
"
323


Isaac D. Wade,
"
23
300
Nelson J. Scarritt,
"
323


Oscar E. Tuthill,
"
123
200
D. O. Manwaring,
"
23
300
Joseph Talbot,
"
23
300
Alexander Butts, Jr.,
Otselic,
323


Adelbert Rose,
Smyrna,
23
300
John McKenna,
"
23
300
Frederick Seymour,
Otselic,
73
250
Silas H. Chapman,
Plymouth,
323


James W. Hardin,
Norwich,
323


John Greenfield,
Pharsalia,
323


Edwin Buff,
Norwich,
323


Dwight Mygatt,
Smyrna,
23
300
Vernon Worden,
"
23
300
Merritt Shafer,
Norwich,
323


Walsteen Pudney,
Sherburne,
323


Cyrus A. Wedge,
Georgetown,
323


James M. Ferris,
Smyrna,
73
250
Isaac Weaver,
"
23
300
Thomas H. Mowers,
"
23
300
Alonzo Barr,
"
23
300
Charles H. Robinson,
Greene,
323


At a special meeting held June 21, 1864, Demas Hubbard, Jr., reported that "the town was six behind in making its quota after all the credits had been allowed, that three veterans had been credited and allowed to [the] town, Lorenzo Tefft, Austin H. Swift and Isaac H. Marsh,12 that on learning that a draft had been ordered for the town he made arrangements to have six men furnished to fill up the balance of the quota; "but these men failing to appear that number were drafted. On examination three of the six men drafted---Alfred Eastman, Alexis L. Hemingway and Timothy D. Crandall---were discharged, and Samuel Hinckley, Charles Wilber and Willie Harrington were held to service and paid a commutation. By direction of the Board of Town Auditors he bargained with N. P. Wheeler and Laroy C. Sweet to furnish six men at $400 each, which they did; consequently the town was credited with three men in excess of its quota to apply on a future call.
It was resolved to raise $4,200 "to pay for volunteers and others in the service of the United States and incidental expenses of all persons who have been or shall be credited upon its quota for the present draft." It was also resolved to raise a sum sufficient to pay to the requisite number of volunteers to fill the quota under the next anticipated call a bounty not to exceed $450 each; and further to pay the amounts so voted, one-half in 1864, and the remainder in 1865.
From July 26, 1864, to Nov. 10, 1864, the Board, pursuant to the resolutions of June 21, July 7 and August 23, 1864, issued bonds to the amount of $5,800, payable Feb. 1, 1865; $6,161, payable Feb. 1, 1866; $300, due Feb. 1, 1867; $14,500, due Feb. 1, 1868; and $300 each to Austin H. Swift, Lorenzo P. Swift and Orlando Wedge, veteran soldiers, and to Charles C. Wilber, Samuel Hinckley and Willie Harrington, drafted men, due Feb. 1, 1865; and to Laroy C. Sweet for volunteers furnished, $2,615.33, also due Feb. 1, 1865.
August 23, 1864, it was resolved to pay to each person subject to the draft in the town who had furnished or should furnish a substitute credited on the quota under the call for 500,000 men, for three years $600, for two years $400, and for one year $200. The town was then deficient nearly half the quota under that call. It was resolved also, in the event of failure to fill the quota with volunteers and substitutes, to pay to each man drafted and held to service the sum of $600. Solomon S. Hall, James E. McClellan and Smith A. Cleveland were constituted a committee to procure volunteers, with power to pay not to exceed $1,200 to any volunteer, and $1,000 to any person furnishing a substitute credited on the quota for three years. It was further resolved that the money to be hereafter raised in filling the quota be paid in three years from the following February, with annual interest to be paid the first of February of each year.
At a special town meeting held Jan. 6, 1865, Asa Wilbur, Rowland Tefft, Smith A. Cleveland, Solomon Hull and Laroy C. Sweet were appointed a committee, empowered to fill any future quota of the town to the best of their judgment and in such manner as to avoid a draft; and for that purpose the Town Board was authorized to raise on bonds, if necessary, a sum not to exceed $20,000. The committee were authorized to pay such sums for volunteers and substitutes as in their judgments was reasonable and fair, "having reference to the general market price."
The town of Smyrna furnished 119 soldiers and seamen during the war, besides 7 who were credited to other towns. Only 24 of this number appear from the records to have been natives of this town. Among them was a chaplain, an assistant surgeon, a first lieutenant and an orderly sergeant. The number who enlisted for three years was 118; for two years, 6. Of the number 59 were farmers; the rest represented twenty-six different vocations. They were distributed among the following branches of the service: 4 in the 17th; 1 in the 26th; 2 in the 44th; 3 in the 61st; 1 each in the 76th, 101st, 111th, 143d and 161st, 2 in the 89th, 11 in the 114th and 18 in the 157th infantry regiments; 3 in the 20th and 7 in the 22d cavalry regiments; 1 in the 1st mounted rifles; 4 in the 1st and 1 in the 8th, (light,) 19 in the 5th, 1 in the 8th and 3 in the 9th (heavy) artillery regiments; 1 in the 7th independent battery; and 1 in the 2d Battalion V. R. C.
The record in regard to bounties received is evidently incomplete. So far as it shows 26 received a town bounty of $323, and 1 each of $600 and $1,200; while 30 received a county bounty of $50 and 26, of $300.
---
1 - The Wilcox Creamery, a mile north-east of Smyrna, was built in 1873, by Andrew Burdick and Hazzard Wilcox, who run it three years, when Wilcox sold to Thomas Dye, who, with Burdick, now own and rent it to Enos M. Card and George Littlewood, who took possession in the spring of 1879. It receives the milk from 230 cows. The Pleasant Brook Creamery, four miles west of Smyrna, was built some twelve years ago by a stock company (of which Jerome Brand is Treasurer,) who have rented the last eight or nine years to William G. Hatch & Co. It receives the milk from some 350 cows. The Stanton Creamery, three miles south-west of Smyrna, was built in 1874, by a stock company, who still own and operate it, and of whom Henry Stanton is the leading one. It receives the milk from about 250 cows. The Smyrna Hill Creamery, two and a half miles west of Smyrna, was built in 1875 by a stock company, by whom it is still owned, though it has been operated by William G. Hatch & Co. from the time it was built. It receives milk from about 320 cows. A small creamery was built in the spring of 1879 about five and one-half miles west of Smyrna, by Lobdell & Dart, who make butter alone. It receives milk from about 175 cows. Sherburne Four Corners Cheese Factory was built in 1861 by Lucian Lyon and Isaac Bentley. It is now owned by White, Smith & Co., of Sherburne. It receives the milk from 600 cows.
2 - The family now spell the name Wilber.
3 - This stream is variously known as Collins' and Billings' Creek or Brook.
4 - John L. Sexton, of Big Flats, son of Elijah, who was born in Smyrna, May 1, 1798, who claims to be the oldest person living who was born in Smyrna, and is the only one of Elijah Sexton's children now living, says, under date of March 14, 1880, the settlement was made in 1793. Mr. W. Sexton, of Smyrna, a grandson of Elijah Sexton, says, under date of March 25, 1880, the settlement was made in February, 1796, though he does not claim entire accuracy as to dates.
5 - An Indian name meaning martin, an animal which frequented that locality.
6 - May 22, 1879, B. F. Conkey, was elected trustee to fill the vacancy occasioned by the resignation of E. F. Smith.
7 - The records do not show who filled the office during this years.
8 - December 2, 1833, Peter Merritt was chosen President during the balance of the year, in consequence of Mr. Collins' removal from the village.
9 - The records do not show who filled the office during this year; nor who was clerk in 1865.
10 - See page 327.
11 - This sketch was kindly prepared by the pastor Rev. Charles C. Johnson.
12 - July 7, 1864, F. E. Dimmick reported that the Board, having learned that Isaac H. Marsh was a deserter, resolved, instead of paying the $300 voted to him to pay it to Orlando Wedge, a veteran who had enlisted into the 76th regiment and credited on the quota of this town.
---
Transcribed by Mary Hafler - May, 2006
---

If you have resources for Chenango County or would like to volunteer to help with look-ups, please e-mail Tim Stowell
---
1880 History
Chenango Co, NY Page
---
You are visitor
since 18 Aug 2011 -- thanks for stopping by!

There were 3767 visitors to our previous site from 7 Jun 2006 to 18 Aug 2011.
---
Last updated: 18 Aug 2011