1898 Biographies
B
---
T. Spencer Baker
T. Spencer Baker, the leading druggist of the village of Norwich, was born September 28, 1837 at Bath, N.Y. He is a son of Dr. Andrew and Ruth K.(Marshall) Baker, and grandson of Andrew Baker.
Andrew Baker, SR., was a native of Berkshire County, Mass., whence he removed to Howard, N.Y. in 1825. At the latter place he was engaged in farming a few years then moved to the State of Michigan, where he followed the same occupation and became one of the substantial, well-to-do citizens of his town. He reached the advanced age of eighty years, before overtaken by death. His loving wife survived him several years. They reared a family of twelve children, one of whom was Andrew, the father of our subject.
Dr. Andrew Baker was born in Berkshire County, Mass, in 1805, and came to New York State with his father in 1825. After taking the required course of studies in the public schools he entered Geneva Medical College and graduated in 1836. He first practiced in Bath, remaining there until 1843. In those days physicians did not have finely cushioned vehicles in which to make their professional calls, but were obliged to make long journeys on horseback, and during all kinds of weather. He next entered upon a practice in Norwich, where he succeeded Dr. Henry Mitchell, a prominent physician of his day. He purchased a home on the corner of North broad and Mitchell Streets and built an office adjoining the house. He soon acquired a large and lucrative practice, and was at the height of his success, when he died at the age of fifty-eight years. Owing to exposure on his long trips into the country, he contracted a severe cold on his lungs, that developed into quick consumption, and resulted fatally. He was twice married, his first wife being Armenia Graves, by whom he had two children, namely; Austin and Julia. His second union was with Ruth K. Marshall and they were the parents of the following children: T. Spencer, the subject of this personal history: Clarence M.; Julia A; Delia L.; Caroline O.; Mary L.; Charles O.; Adelphia; Fanny M.; and Ruth K. Dr. Baker was a stanch supporter of the Democratic party. Socially, he was a member of the Norwich Lodge, I.O.O. F.
T. Spencer Baker took a course in Norwich Academy, after which he studied medicine with his father, but instead of completing his medical course, he went to Illinois and was teaching at Ottawa, in that state, when the war broke out in 1861. He enlisted in the 11th Reg. Ill. Vol. Inf. For three months, and at the expiration of that period he returned to Norwich, where he spent the winter of 1862. He then went back to Chicago, where he re-enlisted in, Battery M. 1st Illinois Light Artillery; he was engaged in many battles, among which were Chickamauga, Lookout Mountain, Mission Ridge, and all the battles in Northern Georgia during Sherman's March to the Sea until the column reached Atlanta. Being a student of medicine, he was chosen steward of the Nashville Hospital, having been sent there on account of sickness, where he had charge of the Dispensary, and sold and gave out medicine to 1400 patients. He also fought in many minor engagements and skirmishes, not enumerated here, continuing in the service until the close of the war. Mr. Baker then went to Norwich, and entered the drug business with John Mitchell. In 1871, he purchased the grocer store of Elliott & Gilbert, and after disposing of the stock on hand, established a drug store of Elliot & Gilbert, and after disposing of the stock on hand, established a drug store in the building. In 1888, he bought a vacant lot on the corner of North Broad and Henry Streets, upon which he erected a fine three story building. The first floor is arranged for two stores, one of which is now used as a market and in the other he conducts his drug store. The second floor consists of nothing but office rooms. While the third is a large hall, 25 by 109 feet, in which public meeting or conventions can be held. The building is constructed of brick, and is one of the finest in the county, reflecting much credit upon Mr. Baker, as a progressive and enterprising citizen. He also built a fine house at 106 Henry Street. And owns a large block on Lock Street, and a tenement at No. 50 Cortland Street.
Mr. Baker was united in marriage with Miss Lucy Bailey, and three children were born to bless their home; they are as follows: Maude who died when an infant; May was born September 23, 1870 and graduated from the Norwich Academy; Grace was born December 24, 1875 and is also a graduate of the same institution. Mrs. Baker was born in Northhamptonshire, England, and came to this country with her father, who located in Delaware County, N.Y. becoming one of that county's progressive farmers and citizens. Politically, Mr. Baker is independent, and has held the office of town clerk. He is a charter member of the Col. E. B. Smith Post, G. A. R. of Norwich. In religious views, he is a spiritualist.
Source: p. 103
Transcribed by Ann Hopkins - 15 May 2005
---
Oscar G. Bell.
The Norwich Pharmacal Company, of which Mr. Bell is president, is one of the most important manufacturing industries in the County of Chenango. The laboratory and main office is located in the village of Norwich, with salesrooms in New York City at No. 51 John Street, and traveling salesmen in twenty-five states in the union, besides agents in south America and Canada. The business was established under a partnership in 1885, and was incorporated under the laws of the State of New York in 1890. It has had a rapid and continuous growth, due both to the superior quality of goods manufactured and the enterprise and energy of Mr. Bell and the other officers at the company.
The subject of this sketch was born in Boonton, New Jersey, December 23, 1857, and is a son of Horace and Hulda Bell, who were of Scotch ancestry. He was educated in the common scho9ols of New Jersey, and in 1874 commenced his business career as a drug clerk in Boonton, his native place. After two years' service there, he removed to Smyrna, Chenango County, New York, where he was clerk in a drug store two years, returning to Boonton in 1878 to accept a position as bookkeeper in a silk mill. In 1880 he came to the village of Norwich and entered the drug store of T.D. Miller, where he remained as prescription clerk until 1885. In that year the Norwich Pharmacal Company was organized, which Mr. Bell as one of the firm. In 1890 the business had grown to such proportions that the company was incorporated, and took a leading place among the pharmaceutical industries of the Eastern States. The officer of the company are: O. G. Bell, president; T. D. Miller, vice president; and c. C. Norris, secretary and treasurer. Their manufacturers which include a large line of proprietary articles, ointments and pharmaceutical preparations have acquired a national reputation. Ungeuntine, a surgical dressing, made by this company from a formula discovered by Sir Astly Cooper, has a large sale in nearly all civilized countries of the globe.
The plant consists of several large buildings, fitted with machinery of a special type and design, made expressly for the company. The main building is a structure of three stories, with ground dimensions of 100 by 30 feet. The building devoted exclusively to manufacture of pills is 24 feet by 64 feet, two stories in height. The boiler house is 38 by 24 and the engine room 20 feet square. The new office building, containing also the advertising department, and the experimental laboratory is 22by 34, three stories.
Mr. Bell is a Republican in politics and a member of Norwich Lodge, No 302, F. & A. M. He is a known and respected as a man of splendid business qualifications, unquestioned integrity and progressiveness rarely excelled.
Transcribed by Ann Hopkins - 30 Sep 2005
---
Henry C. Bennett.
HENRY C. BENNETT, the leading mason and contractor in the village of Norwich, is a son of Stephen and Clarissa (Jenkins) Bennett, and was born at Guilford, Chenango County, New York, October 1, 1850.
His grandfather, Solomon Bennett, was born in Delaware County, N. Y., and later in life moved to the town of Guilford and engaged in farming, following that occupation all his life. He had a family of four sons and two daughters.
Stephen Bennett, father of our subject, was reared in Delaware County. He received a liberal education, and then followed the pursuits of an agriculturist in the town of Guilford. Politically, he was a Democrat, and voted his chosen ticket all his life. He was a member of the Methodist Church, and took an active part in its affairs, being trustee for a number of years. He was a member of the old state militia. He was joined in wedlock with Miss Clarissa Jenkins, and they reared a family of eleven children: Lewis; Eliza, deceased; Susan; Dubois; Luman, deceased; Carrie; Oscar; Alvin; Henry C.; Frank; and Nelson. Mrs. Bennett died in 1879. Mr. Bennett passed from this life in 1895.
Henry C. Bennett received a liberal education in the common schools, and then followed the trade of a mason in the town of Guilford; later he moved to Norwich, and worked with his brother for three years, when he started in contracting for himself, and is now the leading mason and contractor in Norwich. In politics he is a stanch Republican. He is a member of the Methodist Church. He is also a member of the I. O. O. F. Lodge, No. 205; Encampment, No. 52; and Rebecca Lodge, No. 95. He is a member of the Norwich Tribe of the Improved Order of Red Men. He was married November 7, 1871, to Miss Georgia A. King, daughter of R. H. King. One child, Charles, blessed their happy home. Since Mr. Bennett has been a citizen of this town, he has earned for himself the reputation of being a good, honest, upright citizen, and it is with pleasure that we publish his portrait on a preceding page.
Source: pages 345-346
Transcribed by Tim Stowell - Feb 2016
---
Bixby, Joel J.
A well-known attorney and popular citizen of the village of Norwich, Chenango county, NY, whose portrait is shwon on the opposite page was born July 17, 1863, at Bainbridge, NY where his ancestors had resided since Revolutionary days, the family being among the first to settle here.
Mr. Bixby attended the common schools and Bainbridge Academy; and immediately after the close of his school life began the study of law with the late Hon. Isaac S. Newton, continuing with Judge Albert F. Gladding, and was admitted to the bar April 24, 1885; and since has been continuously engaged in the active practice of law at Norwich, where, through his perserverance and integrity, he has become well and favorably known as a leading member of the Chenago County bar; and has won a host of friends by his kind-heardted, sincere nature.
In 1887 Mr. Bixby was married to Miss M. Louise Newton, daughter of the late Hon. Warren Newton, a prominent businessman of Chenango County, and the founder and president of the national Bank of Norwich. Mrs. Bixby received a liberal education in New York and Boston, continuing the study of music and art abroad. Mr. and Mrs. Bixby have one child, Warren Newton Bixby, Born December 31, 1890.
Mr. Bixby is a stanch Republican and is always actively interested in the welfare of his party. Although not an office seeker, he believes in performing his part when called upon. In 1892, he was made chairman of the Republican County Committee, and for two terms performed the duties of that office to the entire satisfaction of his party. He is a vestryman of the Emmanuel Church, a director of the National Bank of Norwich, and is prominent in social circles; belongs to several leading fraternities, being a member of Norwich Lodge, No. 302, F. & A. M.; Harmony Chapter, R.A.M.; Norwich Cammandery, No. 46, K.Tl; and Chenango Consistory, No. 31.
Source: p. 273
---
GEORGE W. BROOKS
George W. Brooks, the genial proprietor of the popular Palmer House, the leading and best patronized hotel of the village of Norwich, was born in the town of his present residence, Mar 2, 1841, and is a son of Otis R. and Anna (Cady) Brooks.
The father of Otis R. Brooks was of French extraction, and made his living on the high seas as a captain of a sailing vessel. Nine children comprised the family that his wife brought into the world to him. Otis R. Books was born in the State of Rhode Island, where he married his wife Miss B. E. Smith, in November 1831. He came to Norwich, Chenango County, in 1835, and engaged in the grocery business, in which he was identified with considerable profit to himself for five years. He then ran a dray in Norwich for a time and later moved on a farm in the same town, where farming continued to be this occupation until he was forced to lay down his labors at the approach of death. His life terminated December 30, 1879. He was originally a Whig and then a Republican in his politics. His first wife bore him one daughter, Louisa, who married Willis Dexter, and died January 18, 1870. On February 5, 1839, several years after locating in Norwich, Mr. Brooks married the lady who became our subject's mother. Three children resulted from this union, as follows: George W., of whom this sketch is written, Betsey, born November 23, 1845, and died September 21, 1849; and Emma P, born February 18, 1851, who married Palmer Edwards, and died in the prime of her young womanhood, November 10, 1879. Our subject's mother completed her life's pilgrimage July 5, 1897, being over eighty years of age. Otis R. Brooks was a good, law-abiding citizen, with a liking for the domestic comforts of home, with a deep concern for the members' welfare and a regard toward the education and proper training of the children.
George W. Brooks, after leaving school, learned the carpenter's trade as an apprentice in the shop of Burdon Bowers, being with him one year. He then became an employee of the bridge and building department of the O. & W. R. R. and after being with company two months he was made a gang foreman, in which position he continued until the expiration of one year's service, when he was made division foreman. After nine years as division foreman, during which time he had carefully husbanded his means and laid up a considerable competency, he rented the Palmer House in Norwich and after running it with success for three years he bought it outright and continued to cater to the physical wants of the traveling public until 1892, when he leased it on favorable terms. In 1897, circumstances arose that compelled him to take the caravansary back on his hands. He caused the hotel to be refitted and furnished anew throughout and has built up once more an enviable patronage, that is flattering alike to the methodical way in which the hotel is run, the neat and tasty appearance of he rooms, both public and private, and the excellent cuisine, for which the Palmer House is noted. Mr. Brooks has also been interested in the show business, and is even now, with his son-in-law, Mr. Curtis, engaged in managing a show that is on the road. In the late war, Mr. Brooks took an honorable part and fought valiantly for the Union. He enlisted in the army in 1861, soon after the firing on Fort Sumter, and served three years, taking part in many battles, and being wounded once. During all his three years of active service, he was in the hospital but one week.
Mr. Brooks, entered the married state on January 9, 1866, the nuptial ceremony being celebrated on that date that bound him and Julia Snow, daughter of John Snow, in the indissoluble bonds of matrimony. Their only daughter Ada M. married H. A. Curtis. Mr. Brooks has many friends in the town and county, for he has those companionable traits of character that gain for a man the esteem and good-will of his acquaintances. He is an active member of the Republican party, and has been on three different occasions elected to the presidency of the village corporation. He has been an under sheriff of Chenango County for three years. He is a member of the Improved Order of Red Men. He is a Mason of prominence of the thirty-second degree, being a member of Norwich Lodge, No. 302, F & A. M. Chapter No. 151, R.A.M.; Commandery No. 46 and Ziyara Temple of the Mystic Shrine of Utica, NY.
Source: page 70
Transcribed by Ann Hopkins, October 05, 1005
---
Ransom D. Brooks
EDWARD D. BROOKS, the efficient manager of the Maydole Hammer Co, of Norwich, was born in the town of Pitcher, Chenango County, July 21, 1859. He is a son of Addison B. and Maria (Hall) Brooks and grandson of Luther Brooks.
The family comes of old New England stock, and Calvin Brooks, the great-grandfather of our subject, was a native of the State of Massachusetts. Luther Brooks was born in Massachusetts, where he resided until 1812, and then came to Chenango County, New York, locating in the town of Norwich. After remaining there some time, he moved to Pharsalia, this county, and there busied himself in farming the rest of his life. In politcal belief, he was formerly a Whig, but upon the organization of the Republican party, he became one of its firmest supporters. He was the progenitor of seven children, four sons and three daughters. Mr. Brooks passed away in 1891, having attained an advanced age.
Addison B. Brooks was born in Pharsalia, where he received his mental training in the common schools. After farming there for a time, he moved to Pitcher, but remained only a few years. He then went to Norwich, where he worked at the shoemaker's trade. Since coming to Norwich, he has lived a retired life and is enjoying the fruits of a laborious past. He was twice bound in the holy bonds of wedlock, his first wife's maiden name being Evans; two children were born to them; Addison C.; and a daughter who died in infancy. His second matrimonial alliance was with Maria Hall, and four children have blessed their union, who are as follows: Ransom D, the subject of this personal history Elmer B. Casson M. and Minetta M. He is a Republican in politics and endorses unreservedly Republican principles. Mr. and Mrs. Brooks are living in peace and happiness in their home in Norwich.
Ransom D. Brooks attended the common schools of Norwich, after which he took a course in Norwich Academy. As a youth he was ambitious and energetic, and upon leaving school at the age of sixteen, he began teaching. He also worked at farming, thereby earning and saving enough money to pay his way through the Poughkeepsie Business College, graduating in 1881. For five years he followed the trade of his father, that of a shoemaker. In 1881, he was employed as correspondent for Lord & Taylor, dry goods merchants of New York City, remaining with them for two years. He then accepted a position with the Maydole Hammer Co. of Norwich, and has been in their employ ever since. He is an accurate accountant, a good penman and a faithful worker, performing the duties in a manner that has won the favor of the firm. For eleven years he served as bookkeeper and 1n 1894 was made manager of the works.
He was united in marriage with Kate R. Barnard, a daughter of T. W. Barnard of Chicago, and five children have been born to make their home happy they are as follows: Edith K. Phillip O. E.; Marian V.; Caroline R.; and Lawrence A. In poltical belief, Mr. Brooks is independent, always voting for the man he thinks best qualified for the office.
Source: page 246
Transcribed by Ann Hopkins October 05, 2005
---
William A. Brown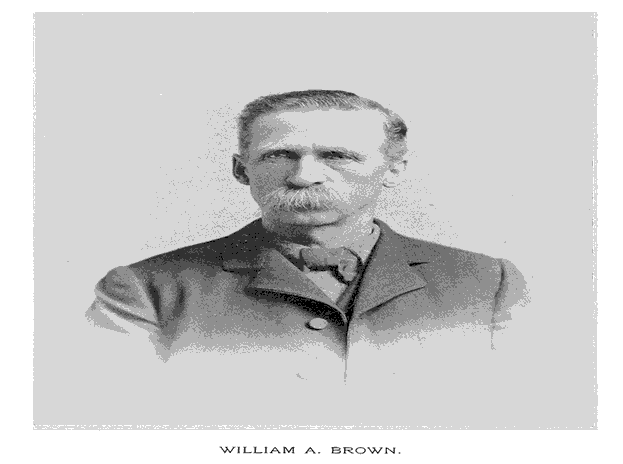 WILLIAM A. BROWN, the genial and popular postmaster of Preston Corners, whose portrait is shown on the opposite page, is a son of Paul and Harriet S. (Alexander) Brown, and was ushered into this world on October 1, 1849, in North Norwich, Chenango County.
His grandfather, Nehemiah Brown, came from Cortland to the town of Norwich, where he was employed at the carpenter trade. He was the father of the following children: Paul; Cyrus; Eleazer; James; Marquis; William; and George.
Paul Brown was born in Cortland County. He resided for the greater portion of his life in the town of New Berlin, where he carried on farming. He was united in marriage with Miss Harriet Alexander, and they are now living in the town of Norwich. Their home has been blessed by the birth of five children: Lavina; Harriet; Mina; Emily; and William, all of whom have grown to maturity, and are regarded with the greatest respect and esteem by the communities in which they reside. Mr. Brown was a Republican, but his time was so entirely employed with agricultural pursuits that he gave but little attention to political affairs.
William A. Brown, the subject of this biography, received his early mental training in the district schools of the town of New Berlin, and then entered upon his career as an agriculturist, a calling for which he was peculiarly fitted, both by nature and by his early training. He came to Preston in 1870, became acquainted with Miss Emma Evans, and made her his wife, February 23, 1876. She is a daughter of Charles Evans, a resident of Plymouth township, this county. They have one child, Lulu. In 1877, he took up his residence on the farm on which he still lives, at Preston Corners. Mr. Brown has always been a hard worker, never shirking a duty, no matter how disagreeable it might be to perform, and he is now enjoying the fruits of his industry and enterprise, having accumulated a considerable property. He and his wife own two of the best farms at Preston Corners, one of which they make their home, and another situated near by, consisting of 150 and 230 acres respectively. However, he is not a man to enjoy too much leisure, no matter how well earned, and at the present time is actively engaged in general farming, to which he has added a dairy business, keeping 40 cows, and receiving from them no small share of his profits. Besides looking after his extensive farming interests, he is the acting postmaster of Preston Corners, and so obliging is he, and willing to please, that he has the support of Democrats as well as Republicans. Perhaps in no position can a man's standing in the community be so readily established, provided he be made of the right material, as in that of postmaster, for the calls upon his time are so incessant, often unnecessary, that it is often a strain upon his good nature, and the fact that Mr. Brown is a universal favorite, with young and old alike, speaks for him the highest praise. He has always been an ardent worker for the Republican party, and has held many offices within the gift of the people; he has at different times been assessor, supervisor, and town clerk of the town of Preston, giving complete satisfaction to his constituents. Mr. and Mrs. Brown are attendants of the Methodist Episcopal Church, and their hands are always extended to assist a worthy cause.
Source: page 336-338
Transcribed by Tim Stowell, Feb. 2016
---
Holland Y. Burlingham
Holland Y. Burlingham, an enterprising business man of Sherburne, who has been closely identified with the interests of the village and who has done much to elevate her standing among her sister villages of the county, is a druggist and jeweler. He was born in Hartwick, Otsego County, Ny, February 3, 1862 and is a son of William and Catherine (Little) Burlingham.
William Burlingham was also a native of Hartwick, Otsego County and was a prominent farmer and stock raiser. He was one of the good substantial citizens of his time and was well and favorably known. His live companion was Catherine little, who was born in England. She was a kind and loving wife, a dovoted mother and is one who is ready at all times to sympathize with and help others in their troubles, remembering that she too, has had sowrows. Mr. and Mrs. Burlingham were the parents of seven children namely: William Hopkins; Holland Y; the subject of this biography John; Curtis; Mary; Josephine, and Annie. Our subject's father lived a long and useful life, passing away at the age of seventy-five years. Mrs. Burlingham is now living in Cooperstown, NY and is enjoying remarkably good health for one of her years being sixty-three years old.
Holland y. Burlingham received his intellectual equipment for his life's battle in the common and select schools of Hartwick. At an early age he began clerking in the general store of H. D. & S. L. Robinson, and remained in their employ for three years. He then traveled through the State of Pennsylvania selling small tables. In this manner he gained experience by contact with the world. He was ambitious and energetic, and spent only such money as was necessary. In time he saved enough to buy a jewelry and stationery store in Hartwick. It was a success from the start, and he continued at his stand for six years. Thinking Sherburne afforded better opportunities for carrying on his business, he sold his store in Hartwick and transferred his business to the village of Sherburne. He purchased the jewelry store of A. C. Hartwell. He purchased the drug business of C.L. Easton in 1893, the year of bank failures, when a general cry went up complaining of hard times and inability to make a business pay. Mr. Burlingham proved that I could be done by diligent work and successful management. During that year of panics he established a large trade and realized good profits. He has since added a full stock of books and stationery to his store. Being a well read man he is able to choose those books that will meet with a ready sale. In politics, he is a Republican, but has man friends in both parties. For two years he served as chief of the fire department and has been a member of that organization for the past five years. He is past grand master in the Norwich Lodge, I.O.O.F.
Mr. Burlingham was united in marriage with Annie V. D. Case, a daughter of DeWitt C. Case, whose personal history we relate elsewhere in this book. Mr. Burlingham is a man who is still in the prim of life and has a brilliant future before him.
Source: page 44
Transcribed by Ann Hopkins October 8, 2005
---
All biographies are from Book of Biographies - Biographical Sketches of Leading Citizens of Chenango County, NY
Biographical Publishing Company - Buffalo, NY - 1898
---
Biographies Page
Chenango Co, NY Page
---
You are visitor unknown since 22 Aug 2011 -- thanks for stopping by!
A previous hosting service lost all the counter records.

There were 1808 visitors to our previous host from 16 Apr 2005 to 22 Aug 2011.
---
Last updated: 24 Feb 2016
---
© 2005-2016
Email: Tim Stowell