1898 Biographies
E
---
AUGUSTUS S. EDDY
AUGUSTUS S. EDDY was born in the town of Green, Chenango County, N.Y., September 17, 1845. His boyhood days were passed in attending the district schools and in helping his parents at home.
August Eddy, grandfather of our subject, was a native of Rhode Island, and was one of the pioneer settlers of the town of Triangle, Broome County, N.Y. He died at the advanced age of seventy years. C.C. Eddy, father of Augusts S., when a young man tough school for several terms; later he learned and followed the trade of carpenter and joiner.
He married Amy Stephens, and for several years reside at East Greene. In 1850, with his family, he moved to the farm in the northern part of Smithville, and followed general farming the rest of his days. He died in 1870 at the age of forty-nine years. To Mr. and Mrs. Eddy were born seven children, four sons and three daughters, as follows: Ellen, wife of George Orr of Manistique, Mich.; Augustus S. of McDonough, N.Y.; John S., an attorney and insurance agent of Chicago, Ill.; Alice E. who married William S. Smith of Green, this county; Charles A., superintendent of the wagon company of Geneva, N.Y.; Ida, wife of Edgar Brown of Manistique, Mich.; and Clifford T., who resides in Toledo, Ohio.
In 1863 Augustus S. Eddy enlisted for service in the Civil War. He was member of Co. C. 8th Reg., N.Y. vol. Cav. He served under the gallant Custer, and took part in the following engagements: Cedar Creek; Spottsylvania C.H.; Yellow Tavern; Hanover C.H.; White Oak Swamp; Malvern Hill; Stony Creek; Ream's Station; Winchester; and the second battle of Cedar Creek. He performed the duties of a soldier bravely and faithfully, and received an honorable discharge in July, 1865. Returning home he worked on a farm, and then for a short time on the Erie R.R.
On November 4, 1868, our subject was married to Miss Frankie A. Slater. One son Hartwell C. was born to them, who assists his father in the care of the farm and dairy. In 1877 Mr. Eddy purchased the old homestead, running in debt about $6000.00. About 1880 he purchased and operated the first steam thresher in Chenango County. So many farmers were afraid of his machine, that to get the amount of work he wanted he threshed in nine different towns the first season. After successfully operating the machine for six seasons, he sold it and has given his attention to farming and dairying. By faithful and well directed effort, Mr. and Mrs. Eddy paid their indebtedness in thirteen years. They then purchased land in McDonough, adjoining the old homestead, and to get better water for dairying purposes moved the house and one barn from Smithville into McDonough, and later took down the old barn and replaced it with one of modern design, the new structure costing $2,500.
With the exception of two years in McDonough, and one year in Oxford, for the purpose of giving their son better advantages for an education, Mr. and Mrs. Eddy have resided on the farm which they now own since 1877. For the last ten years they have made a specialty of dairying and have won the reputation of making a very fine article of butter. They received a medal for a sample exhibited at the World's Fair at Chicago, and of having a choice herd of Jersey cows, making an annual average of 350 pounds of butter per cow. He is post commander of the G.A.R. of McDonough. In politics he adheres to the Republican party, and votes to uphold the principles of that organization. Mr. Eddy is an honest and obliging neighbor, and possessed of good judgment. With a determination to succeed, he illustrates that old but truthful proverb, "Where there is a will, there's a way."
Source: page 175
Transcribed by Ann Hopkins, November 13, 2005
---
Franklin Edwards
Franklin Edwards, a substantial farmer and business man of Chenango County and Preston township, is a son of Thomas H. and Martha (Wilcox) Edwards, and was born January 24, 1823 in the town of German, this county. The first of the name to locate in this county were from Ireland.
Paul Edwards, our subject's grandfather was a native of Connecticut, from which state he came to the town of Pitcher, this country, where he located and engaged in farming. He was a soldier of the Revolution, taking part in several battles, among which was the battle of Ticonderoga. He was wounded and carried a ball in his left breast, but suffered no serious consequences from it. His wife Martha Allen, bore him ten children, as follows: Rhoda; Hannah; Sallie; Alinda; Patty; Thomas H.; Ethan; Russell; Paul Jr.; and Sexton. He lived to the advanced age of about eighty years.
Thomas H. Edwards came from Stonington, Conn., in which state he was born and located near the village of Norwich and afterwards lived in the town of Pitcher; a few years later, he removed to Allegany county, this state, remaining there the remainder of his life a resident of almond. Politically, he was supporter of the Democratic party, as was his father before him. He was united in marriage with Martha Wilcox, and to this union were born five sons and five daughters: Almira Eaton; Rebecca Irons; Martha Dye; Franklin Roswell; Theodore; Jane; Sexton; Ellen Church; and Tracy. The father entered into his eternal rest when eightysix years of age.
Franklin Edwards, the subject of this biography, attended the public schools of Pitcher township, this county, and afterwards followed agricultural work, coming to Preston in 1843, and working as a farm hand for ten years. At the expiration of that term he engaged in farming on his own account, on the farm known as the Waite Farm, continuing there for fifteen years, at the same time being an extensive speculator and dealer in cattle, having as a partner in the cattle business, Delancy Waite. He married to Lucretia M. Ashcraft, a daughter of Leonard Ashcraft, a native of the town of Preston. He took his bride to the farm he had just purchased in Preston township and there they still reside, in one of the most attractive residences in the township. The farm consists of 107 ˝ acres under the highest cultivation. Mr. Edwards makes a specialty of dairying , keeps sixteen cows and everything around his stables is in the best condition, neat and clean as he thinks a great deal of his cows and believes in keeping them in the best order, and in the most comfortable quarters. Everything about his farm bears evidence of thrift and care. He has but one child, a daughter, Eva, who is the wife of D.B. Heady, a farmer residing in the town of Plymouth, this county. Mr. Edwards is an ardent Democrat, and has been prevailed upon by his friends to accept some lo9cal offices, having served as road commissioner and postmaster of Preston. He has on his place an apple tree of which he is justly proud, it being the oldest in Chenango County and the best to bear fruit.
Source: page 186-189
Transcribed by Ann Hopkins, June 1, 2005
---
ANSEL EVANS, deceased.
The subject of this brief notice was one of the pioneer settlers of Chenango County. His remote ancestors were of Welsh origin. He was born in Guilford, Vermont, in 1790. When a young child, he came with his father and family to this town where he resided until his death.
His grandfather, Major Henry Evans was granted three square miles of land in the county of Chenango, State of New York, situated upon the Susquehanna River. The tree deeds were signed by Governor George Clinton. The lands were granted by Congress for the services rendered by him during the War of the Revolution. Major Evans sold a portion of this land, upon which the village of Bainbridge now stands for 18 ˝ pence per acre. His death occurred in 1792. He lies under six feet of earth, in an old deserted cemetery beside his wife Abigail, with this quaint epitaph upon the headstone:

      "this man come to this country at an early day,
       when nothing dwelt, but beasts of prey,
      And men as fierce, and wild as they…"
Our subject's father, Henry Evans, Jr., was a man of great brain power, and possessed an inventive genius that was keen and far reaching-but circumstances, such as make great men famous, wee wanting. Our subject's mother whose maiden name was Sally Rice, a woman of sweet and gentle presence, died in her youth, leaving one daughter, Sally and three sons--Ansel, Newell and Jehial. Like the branches of the fabled golden tree, when one is torn away, another is not wanting--he three sons, by heritage, and the same inventive genius and brain power.
Ansel Evans, the subject of these memoirs was a millwright by occupation. He was always mater of his work, and nothing could satisfy his demands upon himself but perfection. He was a staunch and honest Democrat through life. He was a conscientious and consistent member of the Episcopal Church. A splendid physique, with a grand head and face, and a firm, dignified bearing, were the outer expressions of the inner man. His mind was logical and his judgment law to his family and friends. His integrity was uncompromising and unflinching. Home was to him a heaven of rest and joy. No harsh word escaped him there, but a glance from his keen, dark-blue eyes governed the most rebellious child of the household.
In early life, he married Gratia Redfield, daughter of Russell Redfield, a man noted far and wide for his wit and genial humor. There were nine children born to them, six daughters and three sons. Sally C. was married to Burr Chamberlain of Dalton, Mass.; G. Adelia was wedded to A. Putman of Bainbridge, N.Y.; William Wallace married Katherine Harding of Tunkhannock, Pa., she is now deceased; his second wife was Susan Coe of Sidney, N.Y.; Betsey A. was married to Dr. A.M. Smith of Pittsfield, Mass.; Diana M., to whom poetry was the natural expression of thought, died when seventeen years of age; Roby H. was the second wife of Dr. A.M. Smith of Pittsfield Mass.; Harriett N. died when two years of age; G. Weston married Josephine Risby of Bainbridge, N.Y.; Dr. Robert, D. D., was married to Miss S. Emma Tarble of Bainbridge, N.Y.-his second wife was Miss Mary Moody of Bainbridge, N.Y.
In later years, Mr. Evans devoted himself to agricultural pursuits. Some portion of his land was once included in the original grant to his grandfather, Major Evans, and another part was once the home of Mrs. Evans when she was a little child. It was a happy homestead, children and grandchildren clustered around them, and the tender loving mother of nine children was the same bright, cheerful companion, with her poetic fancies, her intense love for the beautiful, and ready sympathy in all things, when her eyes closed at last at the age of seventy-seven years, in 1871. Mr. Evans survived her two years. With his eyes undimmed, in the full vigor of hi mental powers, he died aged eighty-three years, in 1873.
Source: Page 387
Transcribed by Ann Hopkins, 8 Aug 2005
---
ARTHUR GREENE
ARTHUR GREENE, formerly a porsperous farmer of the town of Butternuts, Otsego County, is now living in retirement in the village of South New Berlin, having carried on the pursuits of agriculture successfully and accumulated a competency. He was born on the old homestead in the town of Norwich, August 17, 1826, and is a son of Arthur and Cynthia (Thornton) Greene.
His grandfather was Captain Edward Greene, who was born and reared in Rhode Island. In 1790, accompanied by his family, he came to the State of New york and located in the town of Norwich. The journey was long and tedious as they came overland by means of ox teams and encountered many hard ships. They often went to bed hungry, subsisting mainly on wild game and fish in which the forest and streams abounded. They settled on the Unadilla River a short distance below White Store, in the town of Norwich, where they took up a large tract of land. The country was wild and unbroken and the hand of civilization had as yet made but few changes. They were obliged to go to New Berlin for their flour and meal and as there was no pathway they were obliged to follow "blazed" trees. When returning by night they were often followed of a howling pack of wolves, and found it necessary to carry fire-brands with which to keep them off. It was the persistent determination of those pioneers who first opened up the way, that has brought about the splendid results which are now so familiar to us that we seldom pause to reflect upon what they cost. Two prominent contemporaries of his in pioneer life were Major Richmond and Jocob Reynolds. Besides farming he conducted a hotel which was a popular meeting place of the settlers, who would gather in the evenings and spin yarns and smoke their pipes. He was a captain of the old state militia. In religious belief, he was an earnest supporter of the doctrines of the Universalist Church. Capt. Greene's long and useful life came to an end about 1824, and his wife passed a way in 1814 at the age of fifty-six.
Arthur Greene, the father of our subject was born in the State of Rhode Island, August 2, 1785, and came with his family to this town of Norwich, where he spent his entire life on the hold homestead. He owned and cultivated 160 acres of the tract settled upon by his father. He was a Democrat in his political affiliations, and took a great interest in the local politics of his county. He was a man of decided opinions and fearless in giving them expression. He is amply entitled to the reward of the upright man and good citizen in the memory of his co-laborers. In religious belief, he is a Universalist in early life but later became a member of the Methodist Church. He was united in marriage with Miss Cynthia Thornton, who was born in Rhode Island, June 6, 1791 and six children brightened their home, namely, Alanson, deceased, who was a farmer of Guilford; Philander, deceased, late a farmer of the town of Moriah; Almena S., who became the wife of Ziba Windsor; Nelson, a farmer and hop grower of the town of Guilford; Edward R.; a retired farmer of the town of Butternuts, Otsego County, NY. and Arthur, the subject of this personal history. Mr. Greene died June 11, 1848 and his beloved wife survived him fifteen years.
Arthur Greene was reared on the old homestead and received his primary education in the public schools. After his marriage in 1852, he moved to the town of Butternuts, where he was actively engaged in agricultural pursuits until 1885. He was an industrious worker and a successful manager, and he accumulated considerable wealth during his active life. In 1885 he retired to the village of South New Berlin, where he still lives. He rents his farm of 170 acres, which is located on the Unadilla River near White Store.
In political belief he is a Democrat, and votes uniformly and conscientiously with that party. February 4, 1852, he united in marriage with Miss Harriet E. Thompson and they were the proud parents of one son, George T., a progressive and energetic young man, who resided on his father's farm. George T. Greene formed a matrimonial alliance with Fannie M. Colburn, October 23, 1883, but she was bereaved of his companionship by death, April 24, 1886 and she herself died May 20, 1893. Mrs. Arthur Greene is a loving mother and wife and amiable and accomplished lady, and makes her home a pleasant and attractive spot. Mr. Greene is truly a self-made man, having started out in life with little means but with perseverance, a desire to do well what was to be done and an evident determination to win his way in the great battle of Life. He was succeeded beyond his fondest expectation. He is not only one of the prominent men of South New Berlin, but is honored and respected wherever known.
Source: page 223
Transcribed by Ann Hopkins, 8 Nov 2005
---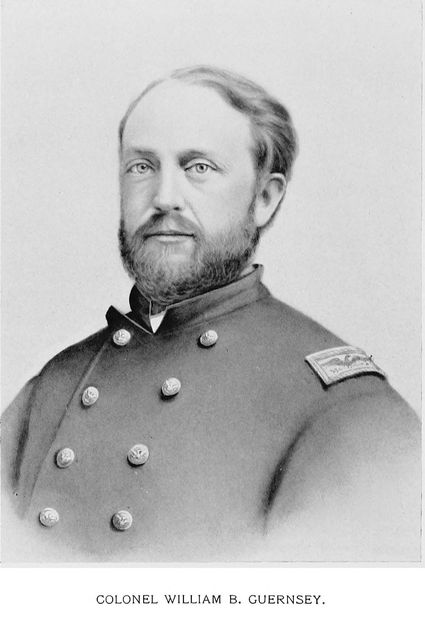 COLONEL WILLIAM B. GUERNSEY, a retired and honored citizen of Norwich, is an important factor of a well-to-do and intelligent community, and is contributing more than his share toward the maintenance of morality, good order, and all those things which constitute the welfare and prosperity of a prosperous city or village. He is a son of Peter B. and Mary (Bellamy) Guernsey, and a grandson of Peter B. and Mary (Spiers) Guernsey.
The family is of old colonial stock, Joseph Guernsey, the great-great-grandfather of our subject, being a colonist of New Haven, Conn. His son, John Guernsey, was born in Litchfield, Conn., and at an early age came to Amenia, Dutchess County, N. Y., where he purchased a large tract of land. He followed agricultural pursuits and was one of the good substantial men of his time. He also practiced his profession. The farm has remained in the family since he settled on it, and is now a very valuable piece of property. He married Azubel Buel, by whom he had fifteen children, namely: Isaac; Azuba; Sarah; Lorus; Ebenezer; Rachel; Rhoda; John; Peter B., the grandfather of our subject; Joseph; Lydia; Ezekiel; Samuel; Ann; Davice. The family name was formerly spelled "Garnsey."
Peter B. Guernsey was born in Amenia in 1770, and was reared on his father's farm. He began the study of law with Chester Walworth of Saratoga, N. Y., and was admitted to the bar in 1795. He then went to Salina, Onondaga County, N. Y., remaining there two years, coming thence to Norwich in 1797. At that time there was no village, a very few settlers composing the community. In after days his family often heard him speak of the times when he was obliged to go to the mill at Chenango Point, now Binghamton, for provisions, or to attend court at Painted Post. He became a very prominent man, and did much to build up the village of Norwich, giving land freely for sites for the county buildings, and for the establishment of a park. He was an active and energetic man, and carried on several different lines of business; he manufactured linseed oil, operated a woolen mill, and owned an ashery and saw and grist mills. His position in political circles was no unimportant one, for he was held in the highest esteem, and was the first Whig Assemblyman sent to Albany from the Chenango district. His companion in life was Mary Spiers of New Lebanon, and they were the parents of the following children: Peter B., Polly; William; and Lavinia.
Peter B. Guernsey, Jr., our subject's father, assisted in the duties that presented themselves upon his father's estates, but at an early age his health failed him. He traveled in England and on the Continent in the vain hope of securing freedom from the disease that was oppressing him, but it was all of no avail, and he was called to lay down his burden at the early age of thirty years. His marriage had been with Mary Bellamy, daughter of Joel Bellamy of Catskill, N. Y., a union that was productive of two children, namely: William B., the subject of this personal history; and Augustus, who died in infancy. Mrs. Guernsey's second union was with Dr. Henry Mitchell of Norwich. She passed to her reward in 1878, at an advanced age.
William B. Guernsey, our subject, is a man of superior education, having graduated from Troy University. He also studied law, and was admitted to the bar in 1852. He inherited considerable property, which required his undivided attention, leaving him no time, therefore, for the practice of his profession. During the late War of the Rebellion, he served successively as captain and as colonel; he enlisted in the summer of 1861, and received his final discharge in the fall of 1865. Upon resuming peaceful occupations, Colonel Guernsey remodeled the old homestead, made other improvements, and has lived there since. It is one of the most beautiful residences in the county, and the interior is fully in keeping with the prepossessing architectural exterior. It is furnished with rare good taste, and adorning the walls are to be seen beautiful paintings, some by the masterly hand of Mrs. Guernsey. She is without doubt the best artist in her section of the county, and her works are highly complimented by all who have the pleasure of viewing them. This talented lady takes great pride in her collection of paintings, and has purchased some very fine ones, having the most valuable in this part of the state. Besides the old homestead, Colonel Guernsey owns other valuable estates in and about Norwich.
Mrs. Guernsey, who before her marriage with our subject, was known to a large circle of acquaintances as Jane Madelia Maydole, doubtless inherits her acknowledged artistic, and executive abilities from her father, David Maydole, who by means of his hammers acquired fame and prosperity for himself and the village of Norwich, where he passed his life. An interesting account of his life appears on another page. Our subject and wife are liberal in their religious beliefs, and contribute generously to whatever affects the welfare of their town. Colonel Guernsey is living a quiet and unostentatious life as a good citizen, a kind neighbor and generous friend, and filling his position in the world as a promoter of every good work and purpose, socially, morally, and religiously.
After the war, Colonel Guernsey spent much of his time as an inventor, and obtained patents on all phases of electric bank and police protection, inventions that are now extensively used in the principal cities of the United States. We present on a preceding page a portrait of this prominent, well-esteemed citizen of Norwich.
Source: page 228-31
Transcribed by Tim Stowell, 7 Jul 2016
---
All biographies are from Book of Biographies - Biographical Sketches of Leading Citizens of Chenango County, NY
Biographical Publishing Company - Buffalo, NY - 1898
---
Biographies Page
Chenango Co, NY Page
---
You are a welcome visitor.

There were 1826 visitors to our previous host from 4 Jul 2005 to 22 Aug 2011.
---
Last updated: 7 Jul 2016
---
© 2005-2016
Email: Tim Stowell