1898 Biographies
W
---
CLARK L. WEBB
CLARK L. WEBB, the well known proprietor of the Central Restaurant of Oxford, N.Y., was born in Smithville, Chenango County, N. Y. June 21, 1858. He is a son of John S. and Mary A. (Davis) Webb and a grandson of Merritt Webb.
Merritt Web was born in Smithville, and there farmed during his active life. He earned an ample competency and spent the latter years of his life in retirement at Oxford. He was united in marriage with Eliza Baldwin, a native of Smithville, by whom he had twelve children. They all grew to maturity and were a credit to the various communities in which they lived; their records are as follows: Harriet married Harvey Knickerbocker of Smithville; John S. was united in marriage with Mary A. Davis of Smithville; George was married to Mary Hunt of Wausau, Wis.; Roxanna became the wife of Andrus Crumb of Preston, Chenango County, N.Y.: Andrew, deceased; Jane is the widow of Hiram Lewis of Oxford; Sarah is the wife of Thomas B. Harris of Oxford; Ellen is deceased; Mary; Frank, who married Irene Bartoo of Greene; Charles was united in marriage with Clara Thompson of McDonough; and Angeline became the wife of S. Moore of Oxford. Religiously, the family favored the Universalist Church.
John S. Webb, who is now enjoying a comfortable competency, obtained by his own industry and superior business qualifications, is one of the old an reliable citizens of the county. He was born and reared on a farm at Smithville, receiving his education in the common schools. It was but natural that he took up the occupation of his father and followed it for so many years. He owns a farm six and a half miles from the village of Oxford, and there hi was engaged in general farming and stock raising until 1890, when he retired to the home of his son in Oxford, but still owns the farm. He formed a matrimonial alliance with Miss Mary A. Davis, daughter of Solomon Davis of Smithville, and one child was born to make their home happy, namely: Clark L., the subject of this biography. Mr. Webb is a member of the Universalist Church, and is a regular attendant. Politically, he is an active member of the Republican party, but has never accepted office, preferring rather the life of a private citizen.
Clark L. Webb was mentally equipped for life's battles in the public schools of Smithville. Upon leaving school he became clerk in the restaurant of Arvine Lewis and remained with him two years. He took a liking to this line of business and being a man of careful habits, he saved enough money to buy out his former employer. That he thoroughly understands his business, is demonstrated by the fact that he was successful from the start. He also deals in ice, being the only dealer in that commodity in the village. He has the patronage of the people and has been decidedly prosperous. He bottles and sells carbonated drinks in connection with his restaurant. He is still a young man and the manner in which he has conducted his affairs in the past points to a brilliant future.
He was united in marriage with Miss Minnie V. Loomis of Smithville and one daughter Berth A., has blessed this union. Mrs. Webb and daughter are members of the Episcopal Church, while Mr. Webb is liberal in his views on religion. Socially, his is a member of the Kenotah Lodge, No. 105, I. O. R. M. of Oxford.
Source: page 124
Transcibed by Ann Hopkins, Feb., 2008
---
GEORGE H. WILLARD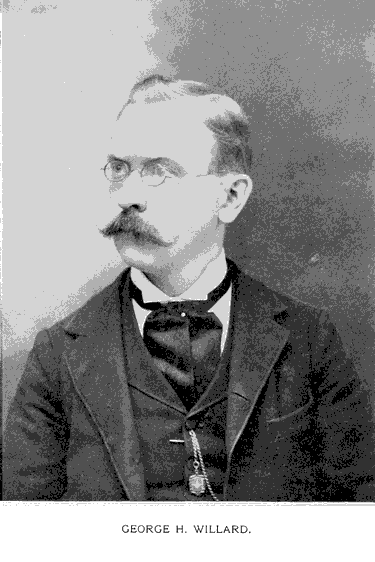 | | |
| --- | --- |
| | EORGE H. WILLARD is associate proprietor and editor of the New Berlin Gazette, a weekly sheet, which has a wide circulation throughout the county. He is a descendant of an old and well-known New England family, and was born April 17, 1866, in Oriskany Falls, Oneida County, being a son of E. Jay and Frances (Ballard) Willard. |
The ancestry of this family is traced back to one, Major Simon Willard, who was architect of the Bunker Hill Monument. The great-grandfather of our subject was Josiah Willard, who left his New England home at an early day and located in Oneida County, N. Y., where he was one of the pioneer settlers in the region of Oriskany Falls. He spent the remainder of his life there. His son James M. Willard, the grandfather of our subject, was born in Oneida County, where he became prominent, both in mercantile circles and in politics, being an unswerving supporter of the Democratic party. He was joined in Hymeneal bonds with Miss Angeline Hubbard, and they reared a family of five children, the oldest of whom was E. Jay, the father of our subject.
E. Jay Willard was also born in Oriskany Falls, Oneida County, and was educated in the public schools of that town. He obtained a good business education and learned the trade of a carpenter. He formed a matrimonial alliance with Frances Ballard, a daughter of Clesson M. Ballard, and they were the parents of two children: Edward C., a printer in the employ of the New Berlin Gazette; and George H., in whom the the interest of this sketch centers. In religious belief, they were adherents to the faith of the Presbyterians. Mrs. Willard's second marriage was to Milo C. Barker, of Oriskany Falls, and they are the parents of one daughter, Mabel A., who is in attendance at school, at Bridgewater, Oneida County, where they now reside.
George H. Willard received his intellectual training in the common schools of his native town and in Brookfield, Madison County, N. Y., where he graduated from the academy, in 1883. He then taught school for several terms, after which he worked on a paper edited by F. E. Munger in Richfield Springs, and also represented the New York Journal, the New York Graphic, and the Utica Daily Observer. After a period of three years' time, he located at Waterville, Oneida County, where he was connected with the Waterville Times for two years. He then went to West Winfield, Herkimer County, and after remaining there one year, went to Oneida, where he was city editor on the Oneida Union, a semi-weekly sheet, and the only Democratic organ in the county. In the summer of 1890, he returned to Richfield Springs, where he was editor of the Richfield Daily and a "special" on the New York World until the following August, when he came to New Berlin. He remained here one year, and then went to Norwich, where he was at first engaged as foreman on the Morning Sun and county representative of the United Press, and later as city editor on that paper. He remained in that village until 1893, when he moved to Ilion, N. Y. and became foreman of the Citizen Publishing Co., which position he held for some years. In July, 1895, when he came to New Berlin, he purchased a half interest in the New Berlin Gazette, and has since conducted that paper in connection with Joseph K. Fox, a record of whose life is also given in this Book of Biographies. Our subject's many years of experience in his field of business have well qualified him for the duties of his present office, and much of the success of the paper is due to his untiring and conscientious work.
Mr. Willard married Lily M. Lottridge, a daughter of Henry L. and Betsy (Fenton) Lottridge of New Berlin, the nuptial knot being tied December 23, 1893. This happy union was blessed by the birth of two sons, namely: Henry M., and Ray F. In political belief, Mr. Willard is a Democrat and has been a member of the county committee. Socially, he is a Mason and belongs to the West Winfield Lodge, No. 581, F. & A. M.; and is also a member of the Improved Order of Red Men of Norwich. His portrait is shown on another page.
Source: page 292-94
Transcibed by Tim Stowell, Nov., 2015
---
R. CHARLES WILLARD
R. CHARLES WILLARD, a resident of Chenango Forks and one of the finest house painters and decorators in the county, was born at "Willards," Chenango County, April 15, 1848. His parents are Oliver H. and Deborah Ann (Richards) Willard, and his grandparents Dea. Oliver and Lydia (Hall) Willard. These ancestors were among the very first to settle in Chenango County, and, amid the privations and want which the early settlers alone have felt and can understand, helped to build up the country, and lay the foundation for the success that makes the county what it is to-day.
The Willard family originated from Caen, in Normandy, when the name was spelled Villiard, and was seated in the County of Sussex, England, during the reign of Edward III., at which time the name was changed to Willard. From one Richard Willard, in the reign of Queen Elizabeth, the family is descended in a direct line of father and son to the gentleman whose name heads this biography, as follows: Richard Willard, father of Major Simon, father of Dea. William, father of Simon, father of Solomon, father of Dea. Oliver, father of Oliver H., father of R. Charles. Richard Willard settled within a few miles of the border of Sussex County, at Horsemonden, Kent, England, where he held an estate in the Hundredth of Branchley and Horsemonden, and died there in 1617. He was the father of Major Simon, the colonist, who in 1634 came with his wife, Mary Sharp, and settled at Cambridge, Mass., and was known to have been possessed of abundant means. He was later one of the founders of Concord, and for thirty-five years was a member of the General Court of the colony. He was proud of his descent, and made use of the family crest and coat of arms. He was commander-in-chief of the military force in King Phillip's War, and died at Charlestown, Mass., April 24, 1676. It was his son, the Rev. Samuel, who was the author of the "Body of Divinity," and another son, Simon, was installed pastor of Old South Church, Boston, Mass., in 1678, and was vice-president of Harvard College from 1701 to 1707.
Simon Willard, the great-great-grandfather of our subject, was married to Abigail Belden, of Lenox, Mass., and was the father of four sons: Horace, Oliver, Joseph, and Simon. He was the architect of the Bunker Hill Monument, his services beginning in November, 1826, the contract lasting one year, and being renewed from year to year until the work was completed, July 23, 1842, when the capstone, weighing 2½ tons, was put in place. In 1826 he started a subscription for the monument, at the Quincy House, in Quincy, Mass., and headed the list with $1,000.00.
Dea. Oliver Willard, the grandfather, was born in Lenox, Mass., April 27, 1783. His father was a native of Petersham, N. H. Dea. Oliver received a good liberal education, and then learned the trade of a cloth dresser, dyer and carder. In the spring of 1805, he brought his mother, then a widow, and two apprentice boys, named Stevens, to this state. The journey was made with teams and lumber wagons through the then unbroken and uncultivated wilds, and the place chosen for their home was near Chenango Forks, where he bought a piece of land and erected a small house, the property now known as the Henry Haoadley estate. He then purchased a water privilege of Simeon Rogers and John Barker, and assisted in the construction of a more durable dam, on the site of the present one. There he put up a building for carding, dressing and dyeing cloth, and operated it some five years, when he sold it to his two apprentices, the Stevens. He then purchased a tract of land, consisting of 115 acres, which extended from the river, where the bridge now is, to Absalom Terwilliger's place, taking in half of the noted spring. He paid $5.00 per acre for this land, which was then covered by heavy timber. It was known as the Craig tract and the only building on it was a log house, which stood on the ground now occupied by Mrs. Hunter's residence.
He cleared off nearly all the timber, sold building lots, and in 1821 built a tavern which he opened to the public; it had a rum pole seventy feet high with three large balls on the top. Later he rented this hotel and built a farm house, where he resided the remainder of his life. This farm is now owned and occupied by Mrs. William Terwilliger. He helped to build the first church which was erected by the Congregational society, and did a great deal to help improve and build up the village. He was a stanch Democrat and held many town offices. He accumulated a nice fortune, and died June 5, 1867, at the advanced age of eighty-four years. After disposing of his carding and cloth dress factory, he returned to Lenox, Mass., and there contracted marriage with Orilla Matomb, who died at the end of two years, as did her infant. In 1813 he was again married, the lady being Lydia Hall, also of Lenox. She died, leaving six children: Emma; Orilla; Oliver H.; Emily; Fanny; and John M. He then married Harriet Hollister, who died leaving four children: Sarah, Simon, Harriet, and Electa. His fourth wife was Ann C. Gates.
Oliver H. Willard, the father of our subject, was born November 27, 1817, and at the age of twenty-six bought the hotel of his father and carried on the business until 1870. During this time he had enlarged the hotel and added a livery stable, while he dealt in horses and at the same time ran a grocery store. He then bought a farm, which he improved, until it was second to none in his part of the county. He sold his hotel property to the D., L. & W. R. R. and moved on his farm, remaining there until 1897, when he retired to the village of Chenango Forks. He is a Democrat and has held several offices. He is a member of the Eastern Light Lodge, F. & A. M., No. 126. He was joined in marriage with Miss Deborah Ann, daughter of Morgan and Armenia (Thral) Richards, by whom he had five children, as follows: Lucy Jane; Revila Charles; Wilbur G.; Rosalie A.; and Frank L. Mrs. Willard entered into her eternal rest, July 24, 1897, at the age of seventy years.
R. Charles Willard received his primary education in the district schools, which training was supplemented by a course at the Ames Commercial College of Syracuse, from which he graduated. His first work was performed as a clerk for D. Lowell, and his next engagement was with J. H. Hunter, when he took the management of Mr. Hunter's patent hay fork, representing him through the west. After severing his connection with Mr. Hunter, he built himself a handsome residence in Chenango Forks, where he has since lived and plied his trade of house decorator and painter, with the exception of eight years. Four of these eight years were spent at Ralston, Pa., as manager of the mills, and in building a line of railroad for the McIntyre Coal Co. He also furnished props for these mines, a business connection that proved quite profitable to him. The next four years were spent in Elmira as superintendent of construction of the Telephone Company's lines. Since then he has been manager of the painting for the D., L. & W. R. R. from Binghamton to Utica.
Mr. Willard was united in marriage with Miss Alice E. Salisbury, to whom has been born but one child, a son, Oliver L., who resides at home. Mrs. Willard is a daughter of Loren and Eveline (Hoard) Salisbury, a granddaughter of Cyrus and Sarepta (Lull) Salisbury, and a great-granddaughter of Thomas and Hannah Salisbury of Situate, R. I. Cyrus Salisbury was born there in 1794, and came to Solon, N. Y., where he followed farming until his death, which occurred at the age of sixty-six years. His wife died at the age of seventy years. Their children were Loren; Noyes; and Hannah. Loren Salisbury, the father of Mrs. Willard, was born at Solon, N. Y., and studied medicine, graduating form the Vermont Medical College, at Burlington. He began the practice of his profession at Castle Creek, this state; from there he went to Cincinnati, Ohio, and later to Killawog, N. Y., in both of which places he ran a drug store in connection with his practice. He was for a time located in Oak Park, Ill., but later returned to Marathon, N. Y., where he spent the remaining years of his life. He was a skillful and painstaking physician, and was well liked by all. He died at the age of sixty-four years, his wife at the age of seventy-one. Their children were, Cyrus, Frank, Alice E., Judson, and Ellen G. Mr. Willard has nearly all his life been a resident of this county, and is well known, everybody being his friend. He is a Democrat politically, and for five years served as justice of the peace, and is at present notary public. He is a member of the Eastern Light Lodge, No. 126, F. & A. M., and also of the Tioughnioga Lodge, I.O.R.M.
On another page of this work in proximity to this, and in connection with the foregoing biographical record, is shown a portrait of Oliver H. Willard, the esteemed father of our subject.
Source: page 215-218
Transcibed by Tim Stowell, Nov., 2015
---
STEPHEN K. WILLCOX
Chenango County is indeed fortunate in possessing a public officer of such efficiency and general executive ability as Mr. Willcox, who as county treasurer, has charge of all the various funds, and see to the collection of the taxes. As a prominent and influential member of the Republican party, he has held the office e by suffrage of the citizens of the county since 1893 and has proved himself a thoroughly capable as well as zealous, public officer. Although his public duties are somewhat onerous and exacting in their nature, he yet finds time by employing dispatch in his labors, to oversee and care for his stock farm in Smyrna township, where his home has always been and where he was born August 10, 1858. Mr. Willcox is a son of Thomas L. and Catherine (Stover) Willcox, grandson of Lillibridge and Annie (Hoxie) Willcox and great-grandson of Hopson Willcox.
The ancestors of Hopson Willcox date back to the year 1638 to Edward Willcox of Portsmouth and Kingston, Rhode Island Colony, who had about that time a trading house at Narragansett, which he conducted with Roger Williams, the founder of the colony. The names of the men, who span the years from 1638 to about 1739 when Hopson Willcox was born in Exeter, RI. Are unfortunately not know to the writer of this biography but they can be found in the town records of Rhode Island. Hopson Willcox came to Chenango County with his sons in 1795 to locate a home for the family and chose a river farm in the town of Smyrna; he purchased a tract of about 100 acres where Melvin Willcox now lives. The remainder of the family, with the exception of two girls, who remained in the state of their birth, came to Chenango County in 1798. There were eight children in the family and the names of the six who came to Chenango County were as follows: Robert; Russell; Lillibridge; John; Hazard; and Betsey. Hopson Willcox lived to be eighty-three years old, dying in 1822.
Bridge Willcox was born in Richmond, R.I, and brought his wife to the new home in Chenango Co. in 1798 settling on the homestead, where the subject of this personal history now lives. With a view to permanent occupancy of the land, and to the needs of the new country, he brought with him from Rhode Island apple seeds and raised seedling trees, which he set out in orchards for himself and for his neighbors. The family clung to their Quaker customs and beliefs long after coming to this district, but gradually they drifted into other denominations. Hopson Willcox had been in his day quite a preacher in the Quaker Church. Lillibridge Willcox cleared a good farm and gave every evidence of being a man of progress and advanced ideas on all subjects. He lived to be eighty years old, dying in 1853 while his wife attained the age of seventy-seven, her death taking place in 1858.
Our subject's father, Thomas L. Willcox was born September 21, 1803, in a log cabin on the farm in Smyrna, where he always resided; he was the second of seven children and outlived the rest of the family. He was one of the prominent men of his town, and his death, which occurred January 13, 1884, was mourned by all his fellow citizens. He was a good and just man, with a stainless record for just dealing. In 1846 he was united in marriage with Catherine Stover, daughter of William and Betsey(Elwood) Stover. William Stover was born in Dutchess County, N.Y. in 1765 and departed his live in Smyrna township, this county in 1841. His first wife, Elizabeth Hollenbeck, bore him these children; Mary; Adam; Betsy Asenath; Samuel; Hannah; Jemima; and William. Two years after his first wife's death, he married in 1808, Betsy Elwood and reared these children: Susan, the wife of Russell Wilcox; Lydia, who married Alfred Seymour; Benjamin; Ruth, who became the helpmeet of Jarvis Pike; John A.; Catherine, our subject's mother; and Richard Elwood. William Stover purchased a tract of land, 400 acres in extent, in the town of Smyrna then Sherburne and there took up and followed agricultural pursuits. He was a well-educated man, could speak German fluently and looked up to by his neighbors. He was a charitable person, a devout Christian, and an eloquent speaker. The following children were born to our subject's parents: Anna E., the esteemed wife of Benjamin J. Cone of Columbia, N.Y. -she died in November 1882; Arthur L. who married Delephine R. Dimmick, and lives on a farm adjoining our subject's; Stephen K., the subject of this sketch; and William R. , once principal of the Webster union Free School, Monroe County, N.Y. and now an attorney at law, No. 32 Nassau Street, New York City. Mrs. Catherine (Stover) Willcox, our subject's mother resides with him.
Stephen K. Willcox received his education in the district schools and in Eastman's Business College. At his father's death he inherited the homestead, which he had been managing for a few years, himself and now owns one of the best dairy firms in the town of Smyrna. For some years he has had it stocked with blooded Devonshire cattle and milks some twenty-five cows. He has a flock of 100 fine bread sheep. He has also made a specialty of raising single comb White Leghorns and has some of the finest poultry in the state.
Source: page 280
Transcibed by Ann Hopkins, May 22, 2005
---
All biographies are from Book of Biographies - Biographical Sketches of Leading Citizens of Chenango County, NY
Biographical Publishing Company - Buffalo, NY - 1898
---
Biographies Page
Chenango Co, NY Page
---
You are visitor x since 22 Aug 2011 -- thanks for stopping by! The previous host lost the visitor stats.

There were 1487 visitors to our previous host from 4 Jul 2005 to 22 Aug 2011.
---
Last updated: 10 Nov 2015
---
© 2005-2015
Email: Tim Stowell