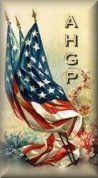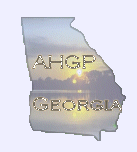 Welcome to Burke County
Georgia AHGP

Burke County, Georgia History
Burke County, Georgia was created in 1777. The parent counties from which Burke County was organized from were St George Parish. U.S. Census reports are available for this county from1820 to 1920. The county seat is Waynesboro. Burke County Georgia Courthouse was burned twice once in 1825, second in 1856.
Burke is rich in history. A few white settlers began to move into this area as early as the 1740's. In 1763 there was the Cession by the Indians of more territory to the Crown. This cession treaty also clarified the rigth to white settlement in all of St. George's Parish. Famous men who spent time in Burke County are Dr Lyman Hall, signer of the Declaration of Indepence who is buried here. George Washington was to have spent the night in Waynesborough in 17 May 1791, Eli Whitney had 3 cotten gins here and also the massive Union Troops which marched through here on the way to the coast. It has been said they burned the courthouse but as you can see from the dates this is not true.
A chronology of documented historic events:
1759 - Some Salzburgers moved up from Ebenezer into St George's Parish and established New Goettingen, now a dead town.
1763 - The first Courthouse in St George's was erected.
1765 - John Bartram, a British scientist, with his son, visited Shell Bluff to study the fascinating large oryster shell formations, which come to be known as "Ostrea georgiana."
Following the Revolutionary War a substantial migration flowed from such states as Maryland,Virginia, North Carolina and South Carolina. Many new settlers took up land in Burke took up lands and lived out there time in Burke County , but the next generation moved westward. Counties taken from Burke are Screven in 1793; Jefferson in 1796 and Jenkins in 1905.
---

- Off site


- On this site


- Future
---

Burke County Genealogical Society
Check out this page for the new Cemetery Book

Burke County Links


Burke County Lookups


Burke Co. GA Surnames


Burke County Queries



Burke Co. GA list
This is to subscribe to the Burke Co. Ga mailing list. In body of message only enter Subscribe Also turn off Taglines.

1850 Burke Co. Census


Beech Branch Baptist Church Membership 1803-1845


Early Burke Co. GA Marriages


Burke Co GA Marriages A - C


Burke Co. GA Marriages D - F


Burke Co.GA Marriages G - I


Burke Co. GA Marriages J - L


Burke Co.GA Marriages L - Z
African-American Marriages Burke Co. GA


A | B | C-D | E-F | G-H | I-J-K | L-M | N-O-P-Q | R-S | T-U-V | W | Y-Z


Georgia's Slave Population in Legal Records: Where and How to Look (an introduction to courthouse resources)

Burke County Wills


1860 African American Slave Schedules (Partial)


Burke County Cemeteries


Georgia Books


Historical maps

Augusta Georgia Obituraries


Richmond County Library


Richmond County


Jefferson Co.


Jenkins Co.


Candler Co.


South Carolina Census Records


War of the Rebellion


US GenWeb Archives Civil War Pensions Project-Georgia


Georgia Lookups


Census-Online


The Buffalo Barracks Historical Web Site


Migration Web Site


Korean Casualties


Topographical Map Site
---

Faith Baptist Church
---

Georgia Master County Index

Gene Stark's Index of Names (Includes all Burke County lines.)
---

Sites On the Web Relating to Burke County Genealogy (Lycos)
---

Georgia County Map Northern Counties are shown in various colors.


Georgia County Map Southern Counties are shown in various colors.


U. S. Gazetteer


Georgia Genealogical Society


GA State Archives


Georgia Master County Index


Georgia Books We Own


Burke Families of ELLISON, DIXON, KYLE, LONG, & POYTHRESS


Warren Family of Burke Co.GA


Utley Family of Burke Co.GA

You are visitor x since 12 Oct 2011 -- thanks for stopping by!
There were 9108 visitors from 18 Feb 2006 to 14 Aug 2011. Stats from 14 Aug to 12 Oct 2011 were not recorded and subsequent ones lost by the service provider.
See you next time.
---
Last updated: 3 Dec 2015

My name is Tim Stowell, the person responsible for Burke County. If you would like to contribute your information to this page, please let me know.
If you would like to host a county, contact Host County
Copyright Marge Braswell 1998-2002

Tim Stowell 2006-2017
Top of Page