1900 WALKER COUNTY CENSUS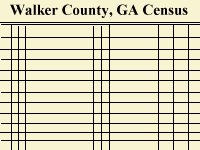 This online publication of the 1900 Walker County census has been made possible thru the generosity of Benton Fletcher, who has transcribed the members of each household with their ages. This census is found in Series T623, Reel 226.
This publication is for your personal use and research only and MAY NOT be printed or used for commercial purposes without the written consent of Benton Fletcher and Sherry Osburn.
Because of the large number of adults living at home or in other households the index is an all names index.
The information below was originally transcribed in alphabetical order within each district. On these pages it is arranged alphabetically by page number, the page number is noted only for the head of household except when members of the household are found on the next page, then the page numbers are listed for them also. The head of household is in all CAPS and in bold type.
There is more information to be found on the 1900 census than is shown on these pages, so you will need to view the actual census to learn the birth month and year of those listed, their relationship to the head of the household, their occupations, where they and their parents were born. Use this information as a starting point in your research. Good Luck!
---