Welcome to Madison County, NY
---
Choose your color
---
This site is associated with NY AHGP, American History and Genealogical Project
---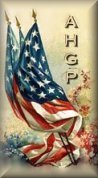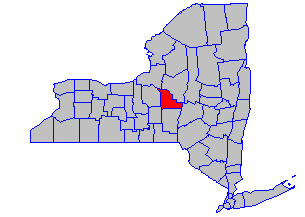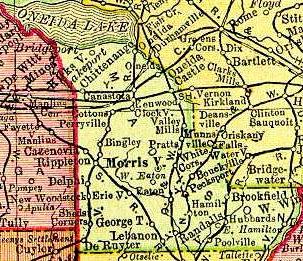 1895 Map of Madison
---
Madison County history
---
Madison County was created 21 March 1806 from Chenango County. The county seat is Wampsville.

The towns of Hamilton, Brookfield and Cazenovia were formed in 1795.
Peterboro was named for Peter Smith. Peterboro was a haven for abolitionists. Peter and his son Gerrit sold over 100,000 acres of land in New York and surrounding states.

Gerrit financed John Brown's raid at Harper's Ferry. According to his later writings, he didn't know what the money would be used for, he was simply showing support for his friend as he had in the past. He also wrote that he had committed himself to the Utica Insane Asylum because he was upset over what had occurred. Some think he did this to avoid prosecution for treason!
---
Population
1810
25144
1820
32208
1830
39038
1840
40008
1850
43072
1855
43788
1860
43545
1865
42607
1870
43522
1875
42342
1900
40545
1910
39289
1920
39535
1930
39790
1940
39598
1950
46214
1960
54635
1970
62864
1980
65150
1990
69340
1997
71652
2000
69441
Year
County Rank
1970
624
1980
641
1990
674
2000
713
---
Information by Towns
---

Family Bibles

Select Bios

Family Stories from Madison County

History of Bridgeport

Canastota History
Join the Madison County Mailing List
A list dedicated to finding relatives in Madison County.
---
SEARCH the ENTIRE Madison County NYGenWeb site.
This will allow you to search the contents of all the publicly available WWW documents at THIS site.
---

Please note that names may be listed as firstname lastname and lastname, firstname on the site, so please use both combinations when seeking a specific individual.
---
Community Announcements
The next meeting of the Madison County Civil War Round Table will be ?
..... contact Robin Moore.
---
Other Madison County sites
John Bartlett's Madison County site
Charles Page's Family Stories of Madison County
---
Sites created by individuals now dearly departed
---
In Memory of Douglas J. Ingalls
1934-1999
---
A Bit of the Past - Madison Co., NY

In Memory of Mike Hollingsworth
Father, Friend, Researcher
1944-2003
---
Cazenovia, Fenner and Nelson History Pages

In Memory of Daniel Weiskotten
Archaeologist, Historian
(12 Feb 1960 - 6 May 2005)
---
Future Projects
Last updated: 4 Mar 2009

Selected Births, Marriages, Anniversaries, Interesting Tidbits from old newspaper clippings.


Historical ads.


Census Records


Colgate catalog - 1843


First Fifty Years of Cazenovia Seminary
It's History - Proceedings of the Semi-Centennial Jubilee - General Catalogue - 1877.


1894 BIOGRAPHICAL REVIEW of Madison County


100th Anniversary of First Presbyterian Church of Cazenovia - 1898


50th Anniversary of St. Peter's Church - Cazenovia - 1898


Muller Hill - 1899


Nelson - Lyons Rural Cemetery - 1900


Madison County World War I Honor Roll


Farm Registry - 1937

---
These are some of the sources currently available for Madison County:
The Madison County Historical Society
435 Main Street
Oneida, New York 13421
Phone & Fax - 315.363.4136
Email

List of holdings:
Bound volumes of newspapers 1854-1969
Church Records
Cemetery Records
Vital Statistics
Family Records
Some Bible Records
Census Records
Histories
Veteran's Lists
Vital Stats from Newspapers published outside the City of Oneida
City and County Directories

Research Policy is as follows:

The Madison County Historical Society?s Mary King Research Library has many items to assist the researcher interested in discovering his or her own family?s history or learning about local history. The library also contains vital statistic files of marriage and death notices abstracted from the society?s newspaper collection from 1854-1931. The researcher also has available, records culled from family bibles, others? research and gathered into family folders, church and cemetery records, local histories, and city and county directories that span the years, 1879-1972. In addition, there are Atlases and microfilms of both Federal and State censuses from 1800-1920.

As a policy, the Madison County Historical Society charges $10.00 for research requests by mail or email, which includes four copies, each additional copy is $.25 per page.

The research library is open to the public Monday- Friday, 9-4 year round, appointments are recommended. There is a $5.00 fee for in-house use of the library for nonmembers and no cost for members. Photocopies are $.25 per page. (Please inquire about membership applications).

---

Madison County Surrogate's Court
N. Court St. * PO Box 607
Wampsville, New York 13163
Phone: (315) 366-2392


Walk ins: Copies of wills at $0.50 per copy of microfilmed page
Mail ins: $25 for records search under 25 yrs and $70 for records over 25 yrs.

---

Hamilton Public Library
13 Broad Street
Hamilton, New York 13346


---

Village of Munnsville
Fryer Memorial Museum (By-Appointment Tours)
Location: Rt. 46 & Williams St.
Munnsville, NY 13409

Olive S. Boylan
Historian
PO Box 177
Munnsville, NY 13409
(315)-495-6148

Fryer Memorial Museum has an extensive genealogical collection. With the researcher in mind, all names mentioned in the collection have been placed on 3 x 5 cards alphabetized and filed. The genealogical collection contains newspapers, scrapbooks, Bible records, family histories, obituaries and donated genealogies. Cemetery records for Madison County and lists of burials in neighboring counties are also in the museums holdings.
Fryer Memorial Museum is an all volunteer organization. There is no charge to use the facilities, but donations are always welcome.

---

Central New York Genealogical Society

---

For more information, as well as books available for sale about this region visit Hope Farm Press

View a map of Madison County from the census bureau.

Madison County place names - (alphabetical) from the US Geological Survey. Then you can view a map of that place.
---
You are our welcome visitor since 25 Aug 2011 -- thanks for stopping by!
There were 12,582 visitors to our previous host from 20 Nov 2004 to 25 Aug 2011.
---
Last updated: 16 Feb 2018
---
[New York History and Genealogy][AHGP]
Maintained by Tim Stowell
Copyright 2004 - 2018